Snapshots: Webster University's 2019 Diversity and Inclusion Conference: Expanding the Conversation
Mar. 6, 2019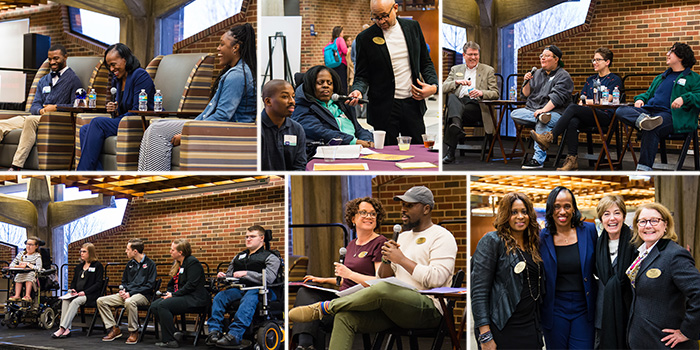 Webster University's 4th Annual Diversity and Inclusion Conference drew more than 500 speakers, panelists, volunteers and attendees to the Webster Groves campus, coming together for three days of thought-provoking activities to expand the conversation on diversity and learn how to become a more inclusive society.
The event began on Feb. 26, with opening remarks from Webster University President Elizabeth (Beth) J. Stroble and a conversation with six-time Olympic medalist Jackie Joyner-Kersee, interviewed by Webster University student athletes Darieana Hunter, a sophomore on the women's basketball team, and Brandyn Robinson, a senior on the men's track & field team.
Joyner-Kersee was also presented with the Champion for All award from Webster. In addition to reflecting on her own background and the obstacles she overcame, she left the audience with words of inspiration and encouragement: "We become what we say, what we believe we can manifest into existence. So I want you all to know, it's only difficult if you believe it is."
Additional sessions on Tuesday's opening day in the Luhr Building included:
"What's Up with Pronouns These Days? Insights into the Experiences of Trans Students at Webster," facilitated by John Buck, dean of students
"Black Panther: Embracing Race & Gender in Filmmaking," with Rosalind (Roz) Norman, adjunct faculty member in Webster's George Herbert Walker School of Business & Technology
"Decolonizing the University: Towards a Culturally Responsive University," presented by Emmanuel Balogun, assistant professor, International Relations, in Webster's College of Arts & Sciences
"Disabilities & Success: What the Students Say," a panel discussion with students from several area universities who have either "visible or invisible" disabilities, moderated by Sarah Schwegel, Youth Transition Coordinator, the Starkloff Disability Institute 
"Title IX Roundtable: The Evolution of Title IX and Where Do We Go from Here," moderated by Phillip Storm, Webster University Title IX Coordinator, and featuring Title IX experts from across the region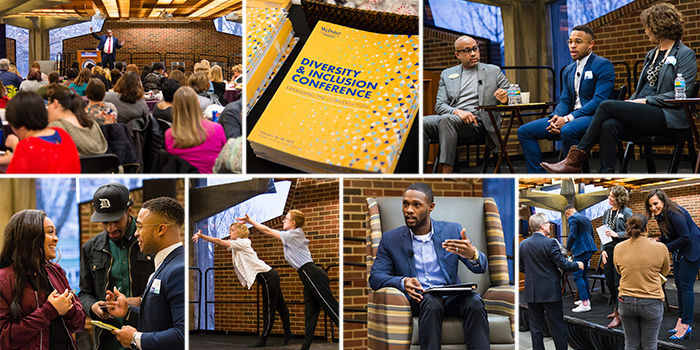 Day two opened with remarks from Vincent C. Flewellen, Webster's chief diversity officer, and a keynote from Neal Richardson (BS '09, MBA '12), president and co-founder of Dream Builders 4 Equity and recipient of Webster's Young Game Changer Award. Richardson reminded the audience about the benefits of facing discomfort. "That is where growth happens: in the most uncomfortable places," he said.
Other sessions on Wednesday in the Luhr Building included:
"Reflections of Women and People of Color from the Field of Media Studies and the Advertising Profession," moderated by Flewellen, with panelists Elza Ibroscheva, associate dean of Webster's School of Communication, Holly Aguirre, president and co-founder of New Honor Society, and CJ Pasley, a social media strategist and brand manager
"Financial Literacy as the Great Equalizer," presented by Michael J. Brathwaite, vice president/financial advisor, Urban Markets Group, Morgan Stanley Wealth Management
"Finding Understanding in Discomfort," with staff from the Webster University Multicultural Center & International Student Affair
"May Our Voices Be Heard?" a performance by Webster BFA Dance majors on chosen topics surrounding Diversity and Inclusion, with student choreographers Kendal Heuman, Jane Tichy, Paige Van Nest and Chrissy Wallen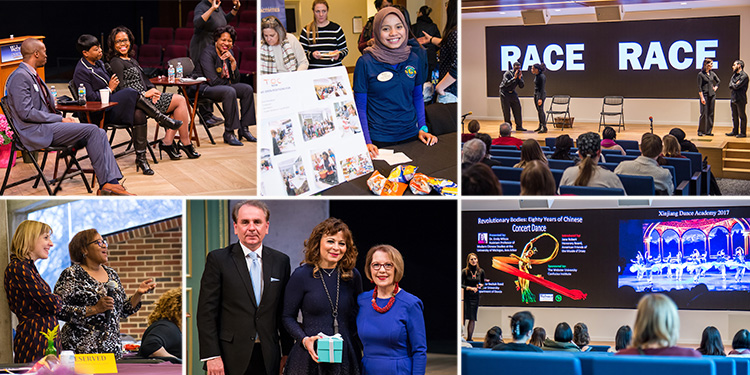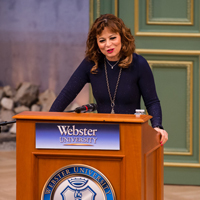 Thursday, the third and final day, began with reflections from President Stroble on the conference to that point, and an introduction of Marilyn Booker, who delivered the keynote address. 
Booker is managing director and head of Urban Markets Group, Morgan Stanley Wealth Management. She delivered powerful remarks about the path to inclusion in our society thus far, and words of encouragement about the work yet to be done. 
"Sometimes the material reward for fighting for justice will be meager, but the moral reward will be priceless," she said. "So reach out and help someone. Reach down and pull somebody up."
Other sessions on Thursday, in the Loretto-Hilton Center, the East Academic Building, and Browning Hall, the interdisciplinary science building, included:
"Navigating Corporate America as Diverse Professionals," a panel discussion moderated by Simone Cummings, dean of the George Herbert Walker School of Business & Technology
"Revolutionary Bodies: Eighty Years of Chinese Concert Dance," presented by Emily Wilcox, assistant professor of Modern Chinese Studies in the Department of Asian Languages and Cultures at the University of Michigan, Ann Arbor
Student Bazaar Market in the Edward Jones Commons: Where attendees could visit with student and staff representatives from a diverse selection of departments and student organizations to learn more about how they support diversity and inclusion at Webster
"Race," a play presented by Civic Arts Company. First published in 1992, Studs Terkel's "Race: How Blacks and Whites Think and Feel About the American Obsession" was an immediate bestseller. Civic Arts Company presented a one-act theatrical adaptation by Jamie Pachino, which brings out the full complexity of the thoughts and emotions of both blacks and whites, uncovering a fascinating narrative of changing opinions
Learn More
tags:  academics, alumni, employee news, faculty, president, provost, home page, diversity and inclusion, community engagement, students, webster life, webster today,
News by Topic
Tag Categories
News by Topic
Tag Categories