The Feminism Awareness Project Closes Out Sexual Assault Awareness Month
May. 2, 2019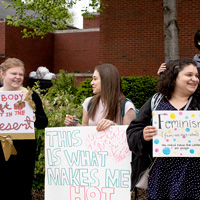 Students in the Introduction to Women and Gender Studies course took part in the annual Feminism Awareness Project on Tuesday, April 30, at the main campus in Webster Groves, promoting the valuable lessons they have learned about in feminist activism.
The vision for the project is, "that by participating in my Feminism Awareness Project while also simultaneously seeing that women's stories about sexism are finally receiving public attention, that my students can be more prepared to speak up in the face of injustice," said Christiana Chekoudjian, professor and creator of the course. She believes it is important for students to participate in activism projects like this one so they are aware of their voice within society.
Chekoudjian created the Introduction to Women, Gender & Sexuality course in 2012 with the idea that the project would be a capstone of sorts to tie the teachings together and help bring awareness about feminism and feminist issues to campus. Students created their own signs and walked throughout campus holding them.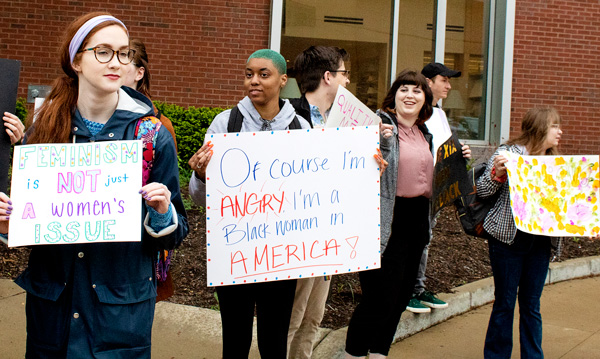 Women and Gender Studies Program at Webster 
Integrating first-hand research and scholarship related to issues of gender, the women and gender studies program is based on the principles of social justice established by the founding organization of Webster University, the Sisters of Loretto. Through a student-centered approach, faculty inspire students to engage with local, national, and international communities to effect social justice. Students can earn a major or minor in WGST, or a minor in LGBTQ studies. 
tags:  academics, webster life, webster today, students, women and gender studies,
News by Topic
Tag Categories
News by Topic
Tag Categories