Collecting Bra Donations for Survivors of Human Trafficking Jan. 23-Feb. 1
Jan. 22, 2019
Free The Girls is a non-profit organization that provides job opportunities for survivors of sex trafficking in developing countries. The second-hand clothing market provides a safe and powerful economic opportunity for women in developing countries where Free the Girls serves, and bras are a sought-after item that command top dollar in the marketplace.
By receiving a starting inventory from Free The Girls, the women are able to begin their business and become an entrepreneur in their own communities. This income allows them a safe economic opportunity, and for many of the women, provides not only for themselves, but their children as well.
Bra Donations Accepted Jan. 23-Feb. 1
Maybe you have one or a few bras in your drawer that you don't wear? New and gently used bras in good condition are again being collected on the Webster campus for the Free The Girls. Donations may be placed in a container outside of Sverdrup room 222, from Jan. 23-Feb. 1.
Read more about where your donated items go in the article, What Happens When You Donate a Bra to Free The Girls?
Contact associate professor Victoria 'Tori' Meyer (victoriameyer78@webster.edu, 314-246-7637) with any questions. Cash donations to assist with shipping costs are also welcomed.
Human Trafficking and Sexual Exploitation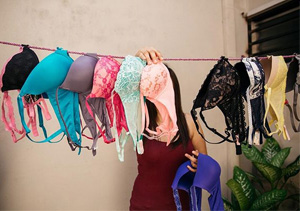 To the women Free The Girls works with, free is the opposite of grave danger, destruction and slavery. Freedom has been stolen through human trafficking from more men, women, and children in the world than ever before. Currently 20-37 million men, women, and children are being held as slaves around the world — with millions captive in sex trafficking. Generating $150 billion dollars per year, it is a highly-organized criminal world that profits from exploiting the vulnerable. It is an injustice affecting every continent at every socioeconomic level.
Their reality is the opposite of free — horrifically enslaved, living in fear of constant abuse, and fundamentally without any free choice - even to choose what they wear or what they eat. Their lives, identity, safety, dignity, self-worth, and hope have been stolen.
Mozambique, El Salvador, and Costa Rica are just three of the countries that face high numbers of human trafficking and modern day slavery. Free the Girls partners there have made it their mission to help bring true freedom to female survivors of trafficking. With a simple yet effective model, FTG is able to invite others into this worthy work of empowering survivors to be restored to who they were designed to be - whole, worthy, and powerfully free.
Read more about the work of Free the Girls' efforts to provide job opportunities for survivors of sex trafficking at their website, freethegirls.org.
tags:  global, webster life, webster today, community engagement,
News by Topic
Tag Categories
News by Topic
Tag Categories