Bee-autiful: University Team Shares Pollinator Tips in Webster Groves Community Days July 4 Parade
Jul. 10, 2019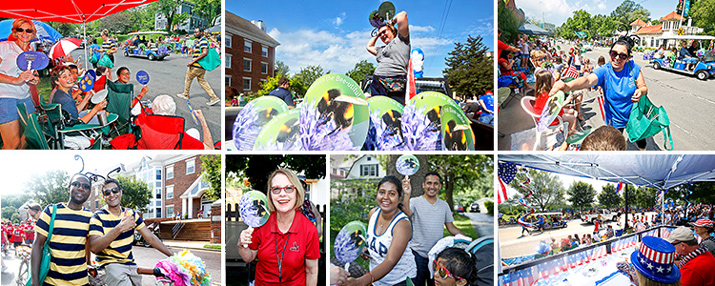 Students and alumni joined Webster University's team on July 4 in the annual Webster Groves Community Days Parade, which celebrates the national holiday in the community where Webster University was founded in 1915.
Global Marketing and Communications, Community Engagement and Facilities Operations collaborated on the University's representation in this major community event, including decorating a Webster golf cart and bike-share bicycles, and organizing staff, alumni, student and family member volunteers to represent Webster during the parade, which drew an estimated 40,000 spectators.
Students and staff from several departments joined in the celebration, handing out fans to on-lookers on the approximately two-mile parade route, which begins just in front of the Webster University campus on Lockwood and continues through historic Webster Groves.

Among the Webster giveaways were fans designed to help keep America "bee-autiful" with bee- and pollinator-friendly tips provided by Nicole Miller-Struttmann, the Laurance L. Browning, Jr. endowed professor in Biological Sciences:
"Bee" a lazy mower: Mowing every other week or less helps support bee diversity
Leave the leaves: Many pollinators nest in leaves or brush piles, and that ground cover also provides insulation for ground nesting species over winter.
Let stems stand: Many pollinators nest inside stems of flowering forbs and grasses
Mulch less: 70% of bees nest in the ground and require bare patches of soil
Plant native plants and offer flowers all year round
Reduce pesticide use: Pesticides are harmful to bees and other pollinators
Use lawn alternatives such as clover and golden groundsel
Miller-Struttmann, whose research focus includes bees and other pollinators, was recently interviewed on local news about the effects pesticides can have on these important species in our biosphere.
Community Days is Webster Groves' annual multi-day festival around the July 4 Independence Day holiday, including carnival and music events as well as evening fireworks displays. Webster University is also proud sponsor of "Webstock" music performances at the Community Days celebration.
See and share more photos via this Facebook post.
tags:  employee news, home page, webster life, webster today, facilities operations, community engagement, global marketing and communications, students,
News by Topic
Tag Categories
News by Topic
Tag Categories