[POSTPONED] Actress Jameela Jamil Coming to Webster
Aug. 27, 2019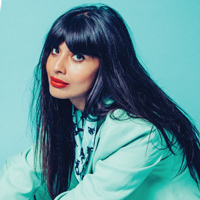 ***NOTE: Due to a medical issue preventing travel, this event has been canceled, however Jameela Jamil plans to reschedule with Webster at a later date. Information for current ticket holders is forthcoming. Additional info will provided soon. ***
Jameela Jamil, star of the hit television show "The Good Place," will speak at Webster University on Sept. 16 in the Loretta-Hilton Center.
Jamil's accomplishments include writer, DJ, model and radio host. She has recently gained a large following speaking out against body-shaming in the media.
Tickets for the show are free to all Webster students with a student ID, $10 for faculty, staff and alumni, and $20 for the general public. Tickets are on sale now and can be purchased here. Doors open at 6 p.m. and the lecture will start at 7 p.m.
About Jameela Jamil
Jameela Jamil's began her media career as a host on T4, the UK's leading youth entertainment show. Jamil later began working as a journalist for both Cosmopolitan Magazine and the Huffington Post, earning nominations from the Professional Publisher's Association and the British Society of Magazine Editors.
In 2012, she released her own clothing line after much success in the fashion industry as a model for both British and American Vogue, Glamour Magazine, Cosmopolitan Magazine and Japanese teen vogue.
That same year Jamil was recruited by BBC Radio 1 to host her own show on their network,and made history as the first woman to host the Official Chart on the esteemed radio station. She remained on at the network until 2015 when she left to pursue a writing career in the United States.
Jamil's path as a comedy writer eventually led to an audition for Michael Schur's latest project on NBC, "The Good Place," starring opposite Ted Danson and Kristen Bell. The comedy series aired in the fall of 2016 to tremendous success and accolades and will be ending it's run later this year.
Jamil has become an inspiration to many, using her platform to speak out against body-shaming and the media's promotion of unhealthy habits.
Accessibility
Campus Activities is committed to making our events accessible to everyone. If any accommodations are needed, please contact Lisa Camp at 314-246-7837 or email lisacamp35@webster.edu. Request should be made as soon as possible.
tags:  announcement, webster life, students, campus activities, ,
News by Topic
Tag Categories
News by Topic
Tag Categories