26th Annual Awards Ceremony Honors Student Leaders
May. 1, 2019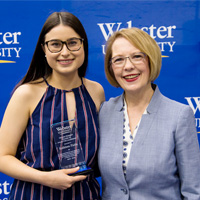 The 26th Annual Student Leadership Awards Ceremony, sponsored by Student Affairs and the Student Government Association, was held on Friday, April 26, in Grant Gymnasium.
Student groups and individual students were recognized for their leadership involvement at the Webster Groves campus, with nearly 130 students and guests in attendance. Many of the awards were presented by alumni, former award recipients who returned to honor current student leaders. President Elizabeth (Beth) J. Stroble presented the Walker Leadership Award.
Kathleen Fields, a management major from O'Fallon, Missouri, received the George Herbert Walker III Award for Leadership, which is awarded to the graduating senior who has demonstrated the most significant combination of academic achievement and leadership during his or her student years at Webster University. The award comes with a $2,300 scholarship.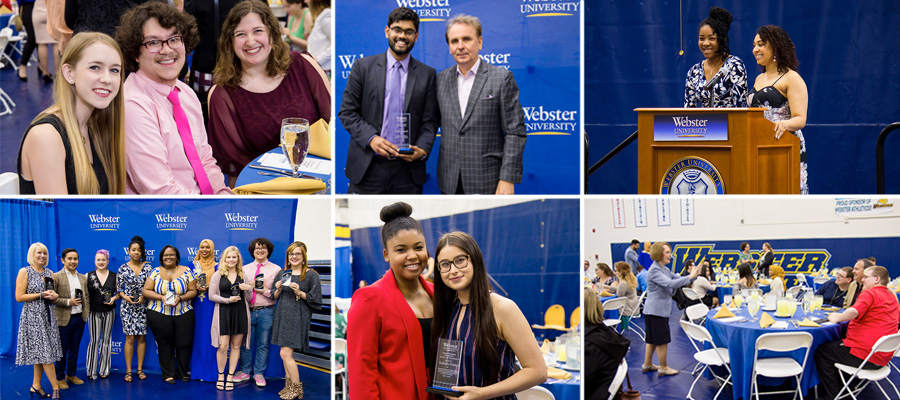 Individual Student Awards
Capstone Award for Leadership: Aathif Shamail
Global Citizen Award: Ola Ugobo
Campus Life Award: Michelle Kimbrel
Campus Voice Award: Chester Bacon
Outstanding Graduate Student Award: Lydia Apriliani
Jacqueline Grennan Wexler Award for Humanitarianism & Servant Leadership: Olivia Potter
Outstanding Leadership of a Student Organization: Shaniquel Reece (I Belong Here Student Support Group)
Outstanding Contributions to SGA: Fayeshun Brown
"I'm the First" Ted Hoef Award for Leadership and Service: Travis Haughton
Mark Govoni Emerging Leader Award: Sarah Hill
SGA Outstanding Student Awards: Freshman – Jenna Dobyns, Sophomore – Matt West, Junior – Brandon Raskin
Making a Difference Awards: Patti Hayes, Vladimir Radojkovic, Jeffrey Salas, Andy Pham, Alexis Hoffman, Hunter Johnson, Kaytlyn Clark, Wafa Osman, Shaniquel Reece, Fayeshun Brown, Dawn Kromer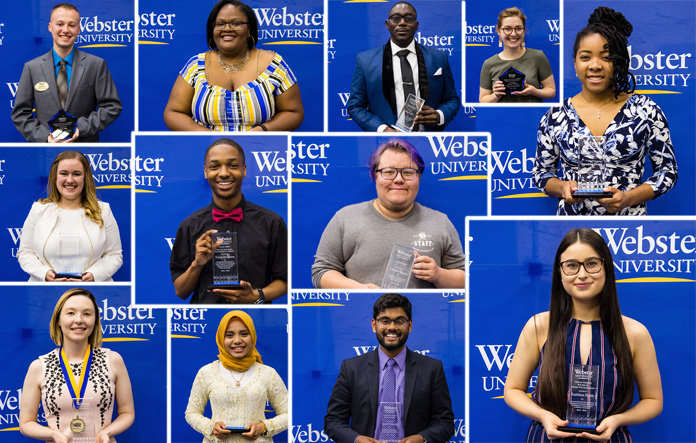 Student Organization Awards
Student Organization of the Year: Webster Fighting Video Game Community
Outstanding Contributions to Cultural Awareness: Association for African Students
Outstanding Contributions to Campus Social Life: I Belong Here Student Support Group
Outstanding New Student Organization: Speech and Debate Club
Faculty / Staff Awards
Student Organization Advisor of the Year: Jordan Wienke (Association for African Students) 
The Learning Happens Everywhere Awards were presented to Julie Setele, Carla Colletti, Terri Reilly, Bill Barrett and Sheila Anglin Jordan
tags:  employee news, faculty, president, home page, webster life, webster today, students, student affairs,
News by Topic
Tag Categories
News by Topic
Tag Categories