Webster Vienna Hosts Panel on Brexit, Euro and Populism Feb. 21
Feb. 1, 2019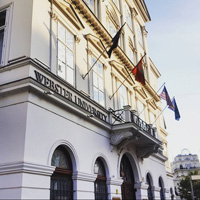 Webster Vienna will host "Risk for Europe – Chance for Europe: Brexit, Euro and Populism," an evening panel discussion on Thursday, Feb. 21.
Gone are the optimistic days of the 1990s – today the European Union is pummeled by crises, or so it seems. Eurocrisis, Brexit, and international developments shake the very foundations of this unique project in regional integration.
Do we need to re-invent the European project? And if so, how can we move past the current wave of re-awakened nationalism? Can Europe still provide the right answers to the multi-faceted challenges the 21st century has in store?
The panelists, moderated by Eric Frey of Der Standard, will be:
Mag. Thomas Wieser, non-resident fellow, Brussels European and Global Economic Laboratory (BRUEGEL), Brussels
Georg Svetnik, head of Private Banking and Securities Division, BKS Bank
Dr. Johannes Pollak, professor and director, Webster Vienna Private University
Hors d'oeurves and drinks will be served after the discussion.
Space is limited. Please RSVP by Feb. 18, 2019 at office.director@webster.ac.at.
Co-hosted by BKS Bank, in cooperation with American Chamber of Commerce in Austria.
tags:  academics, college of arts and sciences, global, school of business and technology, vienna, webster life, webster today,
News by Topic
Tag Categories
News by Topic
Tag Categories