Confucius Institute, Webster Film Series Highlight Discussion on 'Crouching Tiger, Hidden Dragon'
Sep. 30, 2020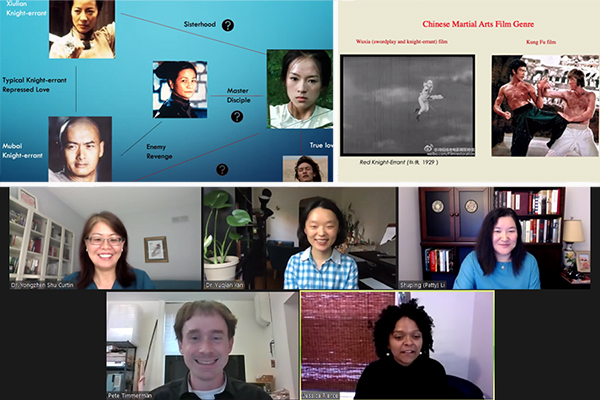 The Confucius Institute at Webster University recently teamed up with the Webster Film Series to bring the film Crouching Tiger, Hidden Dragon to the Webster community. From Sept. 10 to Sept. 24, film patrons were invited to watch this classic film online. 
Yongzhen Shu Curtin, adjunct faculty of Chinese Language and Cinema at Webster University and Yuqian Yan, Post-doctoral Teaching Fellow at Washington University, conducted a discussion moderated by Pete Timmermann, director of the Webster Film Series. The discussion took a more in-depth look at the cultural context, trans-national reception, and aesthetic elements of the film.
Timmermann opened the event with a brief introduction to the context of the Crouching Tiger, Hidden Dragon's initial American release, noting the film's unexpected popularity. The subtitled film grossed $128 million in the box office, more than double the 2019 Best Picture Parasite (nearly four times more when taking inflation into account) and won four Oscars.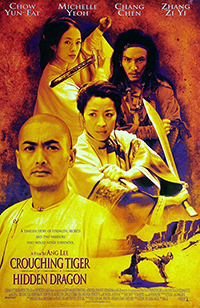 Timmermann discussed how the road was paved for this breakthrough by previous successes of director Ang Lee and actors like Chow Yun-Fat and how it, in turn, increased the demand for Chinese martial arts films among American audiences.
Yan opened with a comparison of the film with the original novel to explain how Ang Lee imbues a culturally specific genre with a universal appeal. Yan analyzed the strategies Ang Lee used to break certain genre conventions and shift the focus to depicting human desire, presenting a visually stunning and morally complex martial arts world. Yan also discussed authenticity and universality by comparing Crouching Tiger Hidden Dragon with the recent live-action film Mulan. 
Shu Curtin also contributed to the audience's understanding of the film by introducing similar yet different Chinese film genres wuxia and kungfu films, showing how Ang Lee played into these traditions. Identifying Crouching Tiger, Hidden Dragon as a wuxia film, Curtin elaborated on the concept of the "xia," or the "knight-errant" (both male and female), with knights-errant's ideals like altruism, justice, loyalty, but also their shortcomings. Curtin also introduced the idea of the jianghu, a setting that contrasts with the Confucian world in which it was dreamed up that knight errant can implement ideals. 
The event ended with a lively question and answer session that gave audience members the chance to interact with the specialists. In all, this was a well-attended and highly informative event that left attendees with some tools to understand Chinese martial arts films on a deeper level. 
tags:  academics, confucius institute, school of communications, webster life, webster today, film series, community engagement,
News by Topic
Tag Categories
News by Topic
Tag Categories