Confucius Institute Holds Virtual Panel on Pandemic with Global Audience
Jul. 20, 2020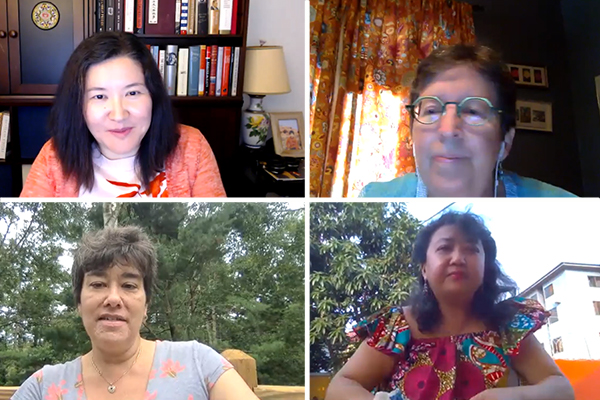 On July 13, The Confucius Institute at Webster University organized an online forum entitled "Understanding the COVID-19 Pandemic from Public Health and International Relations Perspectives." Panelists included Webster University Professor Mary Ann Drake (Nursing) and Agnes Khoo, International Relations adjunct faculty in Ghana, along with Elanah M. Uretsky, Global Health, Anthropology, and International Affairs from Brandeis University. The discussion was moderated by Patty Li, director of the Confucius Institute at Webster University. 
The panel discussed the ways in which COVID-19, as a global public health issue, has triggered and accentuated many underlying problems that are political, social, economic, personal and even environmental. It discussed the role of public health in the pandemic; the different government approaches the pandemic, including those of the U.S. and China; the impact of the pandemic on vulnerable and marginalized communities and international and diplomatic relations.
They noted that COVID-19 has been with us for more than half a year and it is likely to remain with us for a long time to come. Until effective vaccines are found and made accessible to all people and governments around the world could collaborate to contain the pandemic, the virus remains a threat to our lives and health. 
This event was organized for Webster students enrolled in Drake's class, Critical Issues in Global Health, at the Department of Nursing on the main campus, and Khoo's class, Global Climate Change, at the Ghana campus. Students of both courses joined, as well as Webster Ghana Director Christa Sanders and other staff. Students asked some interesting and insightful questions.
This online forum was an example of meeting virtually and yet together under the "new normal" brought forth by the COVID-19 pandemic. More than 53 people worldwide attended the event, joining from the United States, Ghana, South Korea, the Philippines, Bangladesh, Hungary, the United Kingdom, and Switzerland
tags:  academics, webster life, webster today, confucius institute, community engagement,
News by Topic
Tag Categories
News by Topic
Tag Categories