Webster University Receives Recognition, Monetary Award as Finalist for Hobsons Education Advances Award
Oct. 2, 2020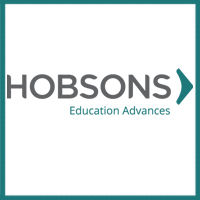 Webster University received recognition as a finalist for the 2020 Hobsons Education Advances Award. This designation recognizes the progress Webster University has made in support of students through the Student Success Portal, powered by Starfish, and other initiatives. This progress includes cultural change to put students first and use data to drive decision-making.
Kyle McCool, senior director of Academic Advising and Starfish project co-lead, joined a panel with representatives of the other two institutions chosen as finalists, Florida Atlantic University and Pennsylvania State University (commonly called Penn State), on Thursday, July 23. A recording of the webinar can be viewed here. 

While Penn State won the 2020 Hobsons Education Advances Award, Webster University received a physical award and a $500 monetary award to recognize the University's work and selection as a finalist.
About Webster's Partnership with Hobsons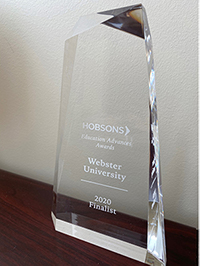 Webster University's partnership with Starfish and Hobsons kicked off in April 2017 and has led to improved student communications, outreach, and support. This work has been a team effort to support student success throughout the worldwide Webster community.
The Student Success Portal, powered by Starfish, launched throughout the United States and for online-only programs in October 2017 and became fully available for the University's Leiden campus in November 2019.
In Spring 2020, the University's campuses in Athens and Geneva gained full access to the Student Success Portal. Work continues to fully integrate Webster's Ghana, Thailand, and Uzbekistan campuses. However, all students and faculty do have access to the system.
tags:  academics, webster life, webster today, arc, academic resource center,
News by Topic
Tag Categories
News by Topic
Tag Categories