[Video] Webster Speaks on The Journey to Becoming an Antiracist
Nov. 17, 2020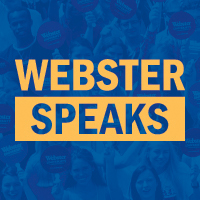 White allyship is vital to fighting racism against Black people. It is not a matter of embracing those who look different; being an antiracist involves hard, daily, deliberate work. Four white social justice activists from the St. Louis area addressed this issue in the tenth edition of Webster Speaks: Dialogues on RACE, EQUITY and INCLUSION on Nov. 11. This marks the first time the Zoom Livestream show, which debuted July 8, featured white panelists.
Host Vincent C. Flewellen, Webster's chief diversity officer, led an extended show, "My Journey Toward Becoming an Antiracist," with the Rev. Wendy Bruner, pastor of Peace United Church of Christ in Webster Groves; Rob Good, adjunct assistant professor at UMSL and member of the Witnessing Whiteness facilitation team; Jackson Hotaling, a volunteer with Faith for the Sake of All; and Hannah Verity, a Witnessing Whiteness 2019 participant and director of Webster University's Global Program Development office.
Each of the panelists discussed how they arrived at a life of social justice activism. For Bruner, it was a mission trip; for Hotaling, it was being exposed to international students in college. For Good, it was a surprising moment with his longtime co-teacher, a Black woman. Good recounted that he thought nothing of it when the school's principal came to him about routine matters and decisions. One day, however, his co-teacher approached him: "She looked at me and said, 'Every time you get information and I don't, I die a little,'" said Good. "It came crashing down at that moment… It made me shift gears and get involved."
Hannah Verity, director of Webster's Global Development office, started joining street protests in St. Louis after the killing of Michael Brown, Jr. on Aug. 9, 2014. "I started looking at things in a different way, and part of that was… directly witnessing the police response to the protesters, particularly the Black activists," Verity said. "Seeing the way the media portrayed the protests and knowing what was really happening on the ground, and seeing the pushback I got in my own personal world for showing up and protesting."
The panelists agreed that white people are never immune from racism because the advantages of whiteness are built into the very fabric of society, its institutions and its systems. Good said that trying to identify one's own racism can be extremely difficult and is a journey without end. Becoming an antiracist involves being deliberate internally and externally. "If you're not making people angry, you're not doing it right," said Good.
Hotaling, who engages in protests with his father, agreed. "I'm going to keep ruffling feathers," Hotaling said. "I have to be intentional; it's an ongoing process."
White social activism can take many forms, from speaking out against inequities to working in underserved communities to engage in peaceful street protests. Bruner, whose church is known for holding protests and moments of silence, says the end goal is to assess how to better Black lives continually.
"How are we actively involved in our communities? Trying to change systems so people can have better lives across the board?" said Burner. "If we are not doing that work then going to do a protest is a great way to spend a Sunday or a Saturday."
Appearing at the end of the show to give her remarks, Chancellor Elizabeth (Beth) J. Stroble praised the panel for their honesty and grit. "We need each other," said Stroble. "Not only do we need to be allies and antiracists for the benefit of those who have barriers in their way...we need each other to keep us straight on the path of the journey because it's not like you are kind of there. It's a process."
Next Time on Webster Speaks
The eleventh edition of Webster Speaks returns on Dec. 2 at 7 p.m. CST. Learn how workplaces are striving toward inclusion and equity during a time of racial reckoning and pandemic-related cutbacks on "Experts Who are Leading Workplace Diversity."
How can workplaces build diversity at a time of shrinking workforces and racial divisions? The role of the chief diversity officer (CDO) and diversity and inclusion (DEI) has never been more important. Join Vincent C. Flewellen, Webster's chief diversity officer, as he talks with three professional colleagues, Angela Cody, CDE, director at Mallinckrodt Pharmaceuticals and leader of the St. Louis Diversity and Inclusion Consortium, Clinton Normore, MBA, vice president of diversity and inclusion at A.T. Still University in Mesa, Ariz and Valerie Patton, MA, MSW, senior vice president of inclusion and workforce development strategies; executive director, St. Louis Business Diversity Initiative.
The Zoom livestream will run from 7-8 p.m. CST, Wednesday, Dec. 2. Registration is free and open to the public. Post questions for the panel on Twitter using #WebsterSpeaks or while registering.
Register Here for Webster Speaks: "Experts Who Are Leading Workplace Diversity."
tags:  community engagement, webster speaks, diversity and inclusion, global, academics, home page, webster life, webster today,
News by Topic
Tag Categories
News by Topic
Tag Categories