Faculty, Staff Lauded at Annual Recognition Breakfast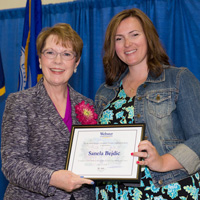 The annual post-commencement Faculty and Staff Recognition Breakfast was held May 10 in Grant Gymnasium, an opportunity for community members to pause after a busy commencement weekend and salute outstanding faculty and staff for the year's accomplishments and for career service milestones.
President Elizabeth (Beth) J. Stroble thanked everyone for their work during commencement and over the academic year, including leaders of the Faculty Senate, Webster Staff Alliance and Student Government Association. The singing of the alma mater was led by Department of Music chair Jeffrey Carter, adjunct faculty member Debby Lennon and accompanist Nicholas Schlueter.
President Stroble and Betsy Schmutz, associate vice president and chief human resources officer, recognized the year's award recipients.
Click here to view more photos from the event.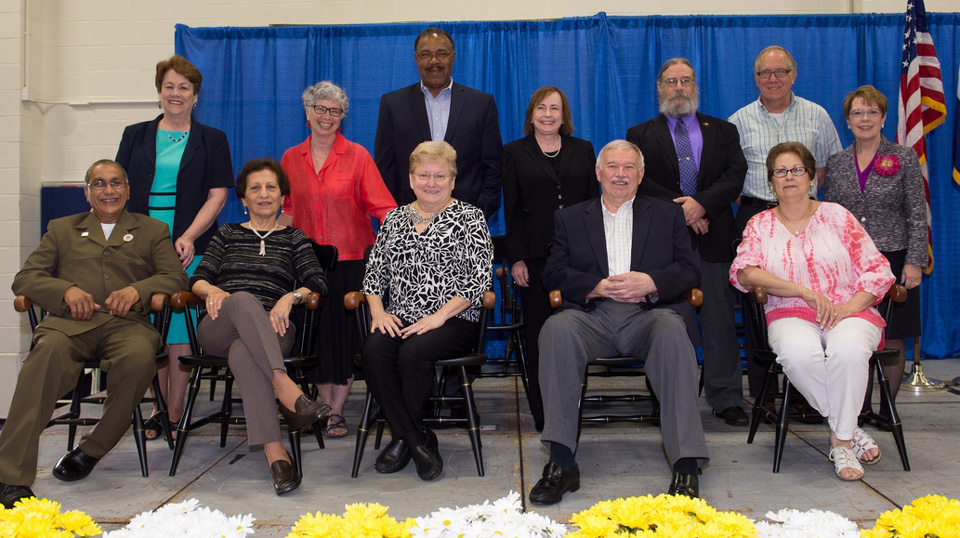 Staff Members of the Year
Shanna Seyer, coordinator, School of Communications, and Jennifer Cottingham, assistant director, Fort Belvoir Campus, were announced the 2016 Staff Members of the Year. The annual award recognizes a staff member(s) who has truly gone the extra mile in his/her position to make significant contributions to the University. The award includes a special honor at the annual breakfast and a $1,000 performance award. Nominators submitted a compelling one-page description of their choice staff member.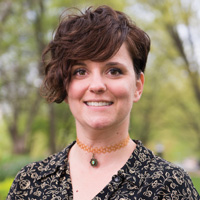 Seyer was critical to the training and implementation of CourseEval in the School of Communications and at Leiden. Because of her work, response rates for course evaluations were double the national average, reaching 100 percent on-time. Faculty indicated the transition was effortless and they are receiving better quality feedback faster. Other staff are now able to reallocate their time providing direct faculty and student support. And department chairs can use the database of student feedback to support the development of faculty in the classroom.
Seyer did this above and beyond her normal duties, which her nominator noted, "will have a significant impact on our ability to operate as a global network, value the voice of students, and make the best possible use of our faculty and staff time in service of our mission. Shanna is the embodiment of Webster's mission."
Cottingham has a passion for education and she is proactive in problem solving to ensure her students obtain a high-quality education. Cottingham has been a strong proponent of WebNet+ courses, supporting faculty training for this tool, which has facilitated a high quality learning experience for our students.
Her strong presence for Webster in the Quantico-Belvoir business alliance has caused the area leaders to make education their priority. Cottingham personal outreach results in a high level of internal referrals as well. Her work has resulted in achieving 350 credit hours over their budget so far this year. Cottingham nominator said "by observing Jennifer, our students can and do learn the importance of individual excellence and how transformative it can be."
Gorlok Greats
Webster Staff Alliance launched a new recognition program called the "Gorlok Greats Award" for those staff members whose achievements, whether an individual act or sustained effort of exemplary service, relate to Webster University strategies and support the University's values and mission. The award includes a special honor at the annual breakfast and a $500 cash award or equivalent if international.
There were 31 nominees this year and each were congratulated for their dedication and service to Webster. The six staff members chosen to receive the first Gorlok Great Awards are:
Christopher Aguilar, senior admissions/recruitment officer, Vienna
Joey Edwards, director, Memphis
Joel Hornes, community relations coordinator, Tampa Bay
Subas Thapa, admissions counselor & recruitment manager, Bangkok
Shirley Torretta, accounts payable manager, Webster Groves
Susan Wilcox, director, project management, Webster Groves
Others Honored
Also honored at the breakfast were the previously announced recipients of the University's major teaching awards, as well as 246 faculty and staff reaching service milestones in five-year increments for a total of 3,915 years of service recognized. Peter Sargent, dean of Leigh Gerdine College of Fine Arts, and Edward Sakurai, professor, Math/Computer Science, were recognized for their fifty years of service to Webster University.
Provost Julian Schuster recognized Emily Thompson, Bruce Umbaugh, Rozan Riley and Mercedes Stephenson, the recipients of this year's William T. Kemper Awards for Excellence in Teaching, and Seoyeon Hong, the recipient of the Wilma and Roswell Messing Jr. Faculty Award.
Fifteen new retirees including the following faculty and staff received special status recognition. Faculty Emeritus status was awarded to Dian Davitt, Carole Gaspar, Barry Hufker, Monica Moore, Carol Schwab. University associate status was awarded to Patricia Froeckmann and Linda Stroud.
Also recognized at the breakfast for their year in University leadership roles were Gwyneth Williams, president of the Faculty Senate, and Sanela Bedjic, chair of the Webster Staff Alliance.