Webster Animation Program Ranked in Top 50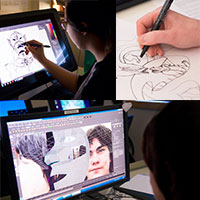 The Animation Program in the Webster University School of Communications is ranked among the top 50 private schools in the nation and the top 25 of all schools in the Midwest by Animation Career Review, a website for people aspiring for careers in animation, game development/design/art, graphic design, digital art and related fields.
Webster's Animation program was ranked as the 21st best in the Midwest region, which includes programs at universities and colleges in Ohio, Michigan, Indiana, Illinois, Minnesota, Missouri, Montana and South Dakota.
The growing program also was listed as the 48th best among the nation's private schools, including universities across the United States from southern California to New York.
"It is a credit to the hard work and dedication of our faculty and staff and the quality of our students to see the program again recognized on a national level," said Eric Rothenbuhler, dean of the School of Communications. "This program combines strong fundamentals with cutting-edge technology to advance the artistic side of our students while preparing them to be some of the most talented animators in the field today."
For the rankings, Animation Career Review sent every school under consideration surveys requesting specific information about their programs as well as asking them to rank peer institutions. Animation Career Review lauded Webster for the program's small classes, hands-on experience with equipment and resources early in the program, collaboration across disciplines within the School of Communications and across the University, and internships and portfolio development.
"This is great recognition for our program," said Chris Sagovac, assistant professor of electronic and photographic media. "We continue to grow and offer diverse options for students to specialize within many areas of the animation and visual effects industry."
Leah Latham, a 2010 graduate of Webster's program, worked on Disney's film "Frozen," which won the 2014 Oscar for best animated film, as well as "Moana" and "Zootopia," which won an Oscar. Past alumni of the program have gone on to work on other blockbuster films: Shanese Williams worked on "Man of Steel," "Ant-Man," and "The Amazing Spiderman;" Tim Latham worked on "Thor: The Dark World," "The Wolverine," "Pacific Rim," "Star Trek Into Darkness," "The Avengers" and "Iron Man 3;" and Kristen Pratt worked on "Guardians of the Galaxy," "Batman v Superman," "Star Trek Beyond," "Game of Thrones," "Godzilla" and "Maleficent." Other graduates also have contributed to films such as "How to Train Your Dragon," "Sunny With a Chance of Meatballs" and "Despicable Me," to name a few.
Animation Career Review started its annual animation school rankings in 2012. Criteria used to rank a school include academic reputation, admission selectivity, the depth and breadth of the program courses and the faculty, the value of the school as it relates to tuition and average student debt, and geographic location.