In the News: Khoo, Cross, and Drag Storytime
Recent news media coverage involving Webster University community members includes:
Cross in Wash. Post on Impact of Workforce Automation
Remy Cross was quoted in the Washington Post's "Wonkblog" section, in an article about the automation of the workforce and what that means for future employees
Cross expressed doubt that future workers could easily bolster their social skills in an increasingly online world, the article said:
"It is too hard to adequately instruct large numbers of people in the kinds of soft skills that are anticipated as being in most demand," Cross wrote. "As manufacturing jobs move overseas or are fully mechanized, we will see a bulge in service jobs. These require good people skills, something that is often hard to train online."
Cross is an associate professor of sociology and criminology in the College of Arts & Sciences.

Khoo on Ghana National TV Program
Agnes Khoo, international relations faculty member at the campus in Accra, Ghana, was interviewed on Ghana Tv3's "New Day" program, discussing where Africa would stand in the event of a global World War III-type conflict.
The title of the segment, which can be viewed here or below, is "Where Africa Stands in a Possible World War III":
Drag Performer Storytime Featured with Alumni in RFT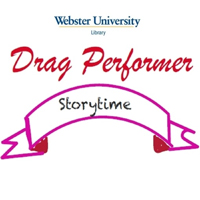 The recent "Drag Performer Storytime" event at the home campus in Webster Groves was featured with multiple alumni quoted in the Riverfront Times.
"For Webster to be leading the way on this in St. Louis is really incredible," said performer Matt Jamieson '11, who performs as "Helena Handbag."
"Even with the amazing upbringing that I had from two incredible parents, to have a message from someone else saying that it's OK to be different, to be whatever you want, that message would have meant the world to me."
Sarah Reando, an alumna and current research librarian who helped Webster organize and host the event, was also quoted.
"To my knowledge, no other academic libraries have done this," she said. "We have a very rich history of drag on campus, and for many of us — myself being an alum and an employee — that's what Webster means to us: creativity and diversity."