Biology Professor's Bee Research in the News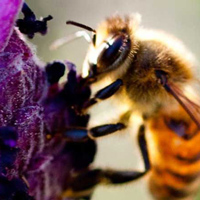 The recently published study on bee tracking co-authored by Nicole Miller-Struttman is making news across the nation, with coverage in public radio, technology and science outlets.
With declines in pollinating species of bees concerning scientists, environmentalists and farmers, Miller-Struttman's research using microphones and computers to track bees provides a safer, less time-consuming and less expensive way to track and quantify bee flight activity.
Miller-Struttmann is the Laurance L. Browning, Jr. Endowed Professor in Biological Sciences in Webster University's College of Arts & Sciences. Her study with colleagues was published last week in PLOS ONE.
News of the study was then published in a radio piece by the U.S. Department of Agriculture and distributed to more than 1,400 radio stations across the country.
St. Louis Public Radio covered the study, including an interview with Miller-Struttmann and audio clips of different bees picked up in their research. That story was also picked up on other NPR-affiliated public radio stations like KBIA.
Additional technology and science outlets picked the story, and Webster University's release on the study was featured in outlets such as Science Newsline and Nature World News.
Read more: