Brown Fills New ARC Assistant Director Position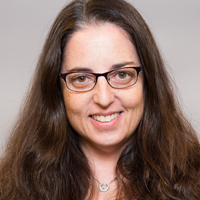 Carolyn I. Brown has accepted the position of assistant director in the Academic Resource Center (ARC). She will officially begin this role on June 16, 2018, and has been filling most of the relevant responsibilities since late December 2017, when former Testing Center coordinator Sanela Bejdic left Webster University.
The assistant director position is designed to consolidate all ARC integrity programs in one role. These programs include the Academic Integrity Awareness Program, Graduate Success Studies (GSS 5000), the Plagiarism Prevention Program, and the Testing Center. Additionally, this position serves as a resource for the ARC team, students, and Webster faculty and staff members when the ARC director is not immediately available.
Brown, as assistant director, will provide additional oversight of ARC technology and physical space, providing a more centralized contact for any necessary work orders. She will also maintain ARC assessment protocols and cycles and assist with other administrative responsibilities.
"Carolyn is passionate about academic integrity and continuous assessment," said Erica Ellard, director of the ARC. "She spearheaded a task force regarding academic integrity in Spring 2017 that led to the creation of the Academic Integrity Awareness Program, and she has tightened and streamlined procedures and processes related to the Plagiarism Prevention Program and the Writing Center/Online Writing Center. I am excited to welcome her to this role and, particularly, to see her make improvements in Testing Center customer service and security."
Brown has a PhD in Teaching and Learning Processes from the University of Missouri – St. Louis and has worked in the Academic Resource Center since September 2014.
"In my new role, I am looking forward to expanding academic integrity programs at Webster and I am also excited about improving the Testing Center experience for all students and faculty," Brown said. "I will serve as a resource for all students who use the Academic Resource Center."