Annual Research Across Disciplines (RAD) Conference Dec. 7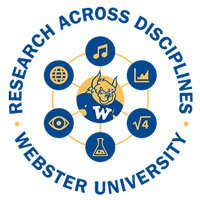 Webster's annual student research conference, Research Across Disciplines (RAD), will take place Friday, Dec. 7.
The 2018 RAD conference kicks off at 9:20 a.m. on Friday, led by a session of Global Presentations delivered via WebEx by students from across Webster's global network.
With support from the Office of Research and Sponsored Programs (ORSP), RAD is pleased to welcome Dr. James Spain, Vice President for Undergraduate studies and E-Learning at the University of Missouri-Columbia. Dr. Spain will deliver a keynote address at 11 a.m. in the Browning Hall Auditorium.
Concurrent oral presentation and poster sessions will commence at 12 p.m.
RAD is conveniently designed to end at 3 p.m., so you'll no doubt have plenty of time to make it to the President and Provost's Faculty and Staff Holiday Party!
This year, over 40 students will present their research and creative projects at RAD. In addition to students from the WEBG campus, RAD will welcome presenters from Leiden, Vienna, Geneva, Thailand, Orlando, and online!
The student presenters have worked extremely hard to pull together their research and creative projects. Please help show them that such efforts are valuable and worthwhile by coming out to support them. Attend a couple of talks. Walk through the poster sessions. Ask the students questions to learn about their projects and why they are passionate about their work.
RAD Conference Schedule
For an overview of the conference and general schedule, please click here.

Why RAD?

Collaborative research is widely and increasingly recognized as a high-impact educational practice, and the RAD conference is one of the more visible examples of Webster's commitment to this important aspect of student scholarship. Faculty, students, and administrators are encouraged to attend RAD conference sessions in order to support students and recognize the hard work that has gone into their projects.

For more information about the conference, including a submission form and helps for students in preparing their presentations, visit the RAD website at webster.edu/rad.
On behalf of the 2018 RAD Planning Committee, thank you for supporting this university initiative.
2018 RAD Planning Committee:
Shannon Blair (Academic Affairs)
Nicholas Frank (Biological Sciences)
Eric Goedereis (Psychology)
Ravin Kodikara (Biological Sciences)
Kathryn Watkins Wors (College of Arts and Sciences)