Webster University's 14th Annual Philosophy Conference, March 29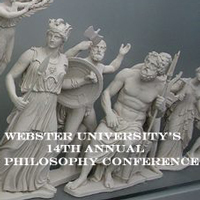 The Webster University Philosophy Department invites students, faculty and staff to the 14th Annual Philosophy Conference on Friday, March 29, in the Sunnen Lounge at the University Center.
The keynote speaker this year is Catherine Z. Elgin of Harvard. She is the author of True Enough, Considered Judgment, Between the Absolute and the Arbitrary, With Reference to Reference, and co-author with Nelson Goodman of Reconceptions in Philosophy and Other Arts and Sciences.
There are two sessions of student presentations, addressing topics ranging from ecofeminism to euthanasia and rape culture to natural law. Morning sessions will go from 10-11:30 a.m. The afternoon session will go from 1:45-5 p.m. Lunch will be provided.
Elgin's keynote speech, "Science and Public Policy: Bridging the Epistemic Gap," will begin at noon.
To learn more about the conference and for an extended schedule of events, visit the Facebook Event page. This event is free and open to the public.