Webster Senior Named to Academic All-America Track/Cross Country Team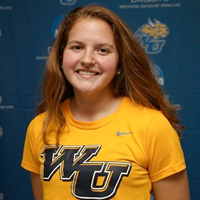 Webster University senior women's track and field team member Anna Grobelny has been named to the 2018-19 Division III Google Cloud Academic All-America Women's Track & Field/Cross Country Team selected by CoSIDA.
With her selection, Grobelny, who is a Third-Team Academic All-America selection, becomes just the fourth Webster student-athlete to earn Academic All-American honors from CoSIDA and the first since men's soccer player Jeff Wallner was honored as a Third-Team selection in 2013.
Grobelny, from Fenton, Missouri, graduated this year with a degree in Biological Sciences with an emphasis on Research and Technology. She earned a perfect 4.00 cumulative GPA at Webster and is one of 18 women on this year's Division III Track & Field/Cross Country Academic All-America Team to carry a 4.0 grade-point average.
As a senior this past spring on the Gorloks women's track and field team, Grobelny finished fourth in the triple jump and seventh in the long jump at the 2019 St. Louis Intercollegiate Athletic Conference (SLIAC) Women's Track and Field Championships. In her career at Webster, Grobelny is the second-best triple jumper in school history and earned Second-Team All-SLIAC honors in 2017. She sat out the entire 2018 season due to injury, before returning to action this year for the two-time SLIAC Champion Gorloks.
Along with carrying a perfect 4.0 grade-point average in the classroom, Grobelny shared this year's Webster Athletics Scholar-Athlete of the Year Award with senior women's soccer player Jillian Zimpfer (St. Louis, Mo./St. Charles) and her research on solid state organic chemistry has been published in four different academic journals over the last three years and she is now in the Molecular Genetic and Genomics PhD program at Washington University in St. Louis.
Grobelny is the only track athlete from the SLIAC to earn Academic All-America honors this season and is one of just two SLIAC student-athletes from the 2018-19 school year to earn Academic All-America honors as Iowa Wesleyan senior guard Darby Massner earned First-Team honors in women's basketball.