Webster Athens Hosts 2nd Annual Privacy Summit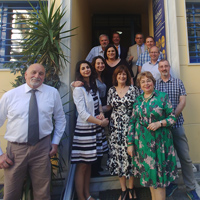 Webster Athens hosted the 2nd Annual Privacy Summit on May 30-31. Webster University's Privacy Mangers and Privacy and Information Security Teams met for the second time to address University's growing privacy and information security agenda, following the enforcement of the new EU-wide General Data Protection Regulation (GDPR) and in the light of the upcoming U.S. privacy laws next year.
University's new Privacy Strategic Plan 2019-2021 was presented at the Summit, as well as the strengthened Privacy and Information Security Team resources.
Furthermore, the summit focused on the accomplishments of the European campuses over the past year, including system-wide employee awareness training, development of the new privacy and information security resources, lessons learned and institutional policies and procedures.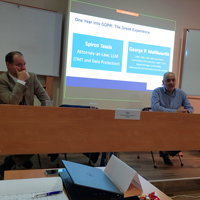 The Summit welcomed speakers from the Greek KnowledgeNet Chapter of the International Association of Privacy Professionals (IAPP). IAPP members Spiros Tassis and Mallikourtis provided an expert overview of the Greek experience regarding the GDPR implementation. This was followed by a lively question and answer discussion regarding the GDPR and Greek derogations.
Our Privacy Mission is to protect both personal and sensitive information promoting transparency for prospective students, current students, faculty, adjunct faculty, alumni, employees and all other constituents of Webster University. We work diligently to preserve individuals' privacy. We strive to be a valued partner and adviser to the entire University community, to protect the integrity of data collected, created, transmitted, released, stored and otherwise processed by Webster University.