Carter Leads Music for Circus Harmony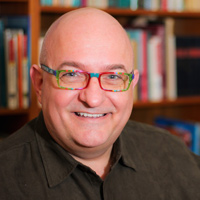 Jeffrey Carter, professor and chair in the Department of Music, is currently the music director for Circus Harmony, with six performances slated for this month.
"I'm on a faculty development leave right now," says Carter, "and craved some creative activity to balance the professional enrichment activities. Circus Harmony needed a new music director, and I wanted a challenge. This seemed like a win/win."
Circus Harmony uses the teaching and performing of circus arts to motivate social change by building character in individuals and building bridges between communities. The annual full-length show features more than a dozen children and teenagers.
As music director, Carter is writing music for a six-piece circus band to accompany each performance. "I've written an hour of new music, and reworked a couple of songs I'd previously written. We also have newly-composed music by freshman music major Noah Lovins, who will play keyboards in the show. Whenever I do a gig like this, I try to include a Webster University student, since learning and performing alongside each other strengthens the whole teaching/learning relationship."
"This entire project has stretched me as a composer. Circus music is programmatic and full of layers, with substance and form quite different from my usual choral and solo song compositions. Adapting my own outlook to the needs of the performers has been a lot of fun," remarks Carter.
Circus Harmony's show, "Accelerando, A Circus Spy Thriller," will be at the City Museum on Saturday, Jan. 19 at 2 p.m. and 7 p.m., and Sunday, Jan. 20 at 2 p.m. The show repeats at the same times on Saturday, Jan. 26 and Sunday, Jan. 27. To purchase learn more about the show and purchase tickets, visit the Accelerando show page.