From Caffeine to Capital Punishment: Research Across Disciplines Festival Highlights the Breadth of Student Studies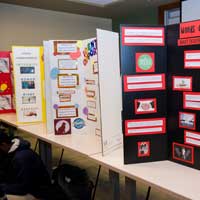 ST. LOUIS - More than 40 college students in the St. Louis region will present their research to the community on Dec. 6 during Webster University's annual Research Across Disciplines (RAD) conference. Topics of the student research range from measuring the impacts of caffeine on endurance runners to how human rights issues are portrayed in modern art.
Webster University alumna Kristin Jackson, chief of staff to the Head of Plant Breeding at the Bayer Crop Science R&D, will be this year's keynote speaker.
"The topics range the breadth of topics taught at a university, from biological sciences and anthropology to math, history and art design," said Ravin Kodikara, a physics professor in Webster University's College of Arts & Sciences and this year's faculty coordinator of RAD. "I look forward to this event every year as it demonstrates the brilliance of our college students while also giving us a look at the topics that are on their minds, thus giving us a look at the research trends of the future."
Forty-one students signed up to either display posters or give oral presentations on their research, Kodikara said, including three students from Maryville University and three students from Geneva, Switzerland. The Swiss students will present their research with live online broadcasts to St. Louis.
The conference starts at 8:45 a.m. in Browning Hall on the Webster University Webster Groves campus with opening remarks by Webster University President Julian Schuster. At 9 a.m., Webster University College of Arts & Sciences Dean Anton Wallner will introduce Jackson.
Jackson is responsible for leading cross-organizational initiatives and strategic alignment, as well as optimizing organizational effectiveness across the Plant Breeding organization. She has more than a decade of experience in the Ag industry and has led in many areas, including Plant Breeding operations, Plant Biotech genotyping IT, and Molecular Breeding Data Analysis.
Oral presentations will start at 9:30 a.m., while poster presentations will be opened at noon, with the posters being displayed in the first and second-floor hallways of both Browning Hall and the neighboring East Academic Building.
Oral and poster presentations planned include:
The Ambiguity of Competency and Insanity Laws in Capital Sentencing
Aging Out of Foster Care Statistics
The Effect of Caffeine on Resting Heart Rate, Rating Perceived Exertion, and Training Heart rate on Endurance Runners
The Effect of Sulfoxaflor on Bumble Bees' Social Learning Behaviors
Credit Risk Reduction: A Data Mining Case Study
The Impacts of Political Culture on the American Opioid Crisis
Promoting Migration in Climate Eruption: a Case Study of the Pacific Small Island States
Ethically Addressing Human Rights with Visual Art
Besides Kodikara, others who helped organize and support the event include Nick Frank, College of Arts & Sciences, Department of Biological Sciences; Katy Watkins Wors, College of Arts & Sciences dean's assistant and communications coordinator; and Shannon Blair, Webster University Academic Affairs.
Schedule and Access
See more information and the full schedule here.
The event is free and open to the public. The public is encouraged to park in the Webster University Parking garage located on Garden Avenue, directly across from the East Academic Building.