Hill Leads Two CHARIS Women's Chorus Concerts April 26-27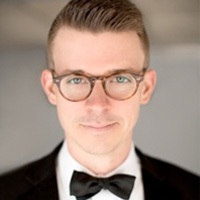 Stuart Hill, director of Music Education in the Department of Music, leads CHARIS, the Saint Louis women's chorus, in two weekend concerts April 26-27.
"I've been the Artistic Director for CHARIS for almost two years and in many ways I see it as a critical counterpart to my work here at Webster," said Hill. "CHARIS stands as a powerful example of what mission-oriented community music making is all about: the choir exists to make art and enjoy fellowship with each other, but also to sing repertoire and to engage in actions that uplift and support women and the LGBTQ community."
"It allows me to experience, and model for my students, what choral music-making can look like 'out there' in the real world, beyond the confines of school and university."
CHARIS performs Friday, April 26, and Saturday, April 27, at 8 p.m. at the Missouri History Museum. Tickets are available at the chorus website, charischorus.org/tickets, and at the concert.
Creating Experience Opportunities for Students
Webster University music majors Faith Boyd and Zoey Fleisher also are active participants of the choral group.
"I've tried to leverage my full-time work as a music teacher educator at Webster University to build a mutually beneficial partnership with CHARIS, embodied in the creation of the Conducting Fellow position, and choral music education major Faith Boyd is currently serving in that role," said Hill. "The position gives Faith the opportunity to help plan and lead rehearsals, teach and conduct a few pieces each concert cycle, and assist in a variety of ways with the artistic endeavors of the organization. She and I meet weekly to check in about CHARIS work, discuss rehearsal strategies, practice conducting, etc."
"The chorus gains a bright young musician who sings in and occasionally leads the choir, while Faith gains what amounts to an extension of her "field experience" as a preservice teacher. Students don't always get a chance to witness and participate in the ways music education functions outside the K–12 context, and Faith is essentially having an additional "practicum" focused on being a music educator in a community setting."
Fleisher is a board member with a multitude of roles in addition to being a singing member of the chorus.