Sculpture Finds New Home on Webster University's Campus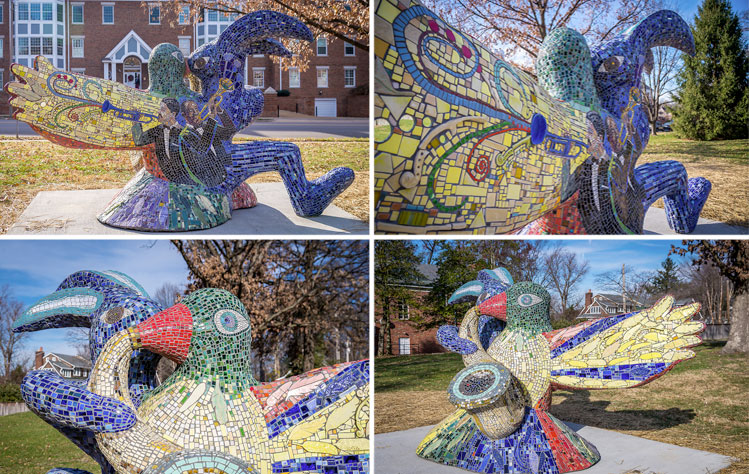 Webster University is the new home of the sculpture "After Hours" by renowned St. Louis artist and Webster Groves resident Catharine Magel. The mosaic sculpture was recently installed at the corner of Lockwood and Plymouth in an arrangement with the City of Webster Groves.
The "After Hours" sculpture gives tribute to the struggle and proud history of St. Louis Jazz and Blues. Louis Armstrong and Bix Beiderbecke are portrayed on one side of the sculpture to remind us of how jazz was the precursor to the civil rights movement.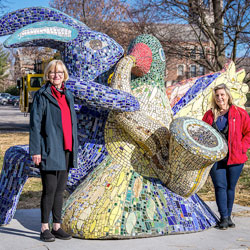 "As an artist, I have a responsibility to depict the world and its movements," said Magel. "There is this unique responsibility to look at history and Jazz in an attempt to recapture how we look at cultures and recontextualize humanity. This work pays homage to the civil rights movement. This history of two men that came together to share their love of music changed the world. Can we follow this lead to have an equally black and white culture that sees the value in all lives? Can we put aside our judgments to make music together?"
Both this sculpture and a second one by Magel were secured by the City of Webster Groves in a loan agreement with the Great Streets Natural Bridge Community Development Corporation. That corporation has agreed to loan the sculptures to Webster Groves for three years.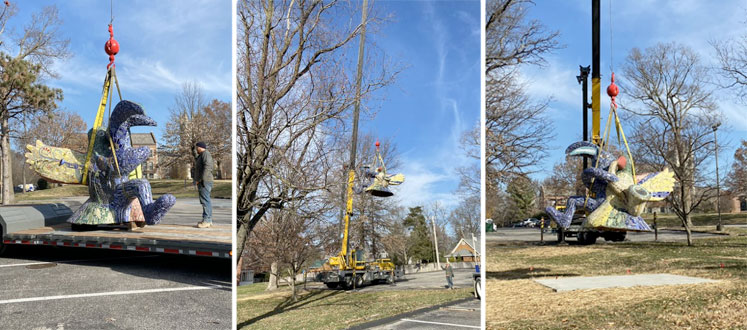 "After Hours" stands eight feet high and 13-feet long and is made of a steel armature with fiberglass and mosaic coating. The sculpture for many years had been located at Grand Center in St. Louis, along with another of Magel's sculptures called "Earth Rabbit." The Earth Rabbit Sculpture will soon be placed at the entrance of Webster Groves Recreation Complex.