Alumnus' Company Provides 3D Printed Medical Parts to Hospitals Facing Shortages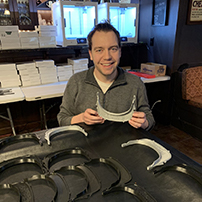 A company co-founded by Webster University alumnus Michael Storey (MBA '12) is using cutting-edge technology to provide equipment to hospitals and health care providers facing shortages during the COVID-19 pandemic.

Beckatt Solutions is a technology company and distributor of 3D printers, print materials and software. Based in the Chicago area, the company is currently providing 3D medical parts and personal protective equipment (PPE) to hospitals that are facing critical shortages. Many hospitals and health care providers have been struggling with the lack of equipment due to COVID-19.

'Employee to Entrepreneur' Path
"I didn't start the Webster MBA program with the idea that I was going to create a business, although I had considered it previously," said Storey. "However, I'm very glad that I did the program and got my MBA prior to starting Beckatt. The Webster MBA program was instrumental in helping prepare me for not only what it takes to build a business from the ground up, but also run a successful business. The instructors at Webster had years of experience in their respective fields, most even still working, and it was extremely beneficial to learn from those who had gone through many of the challenges I would face in business."
Storey and co-founder and Matt Pray began Beckatt Solutions to increase the number of 3D printers and expand 3D printing services and partners in the United States. "I was able to take the knowledge learned in operations, marketing, finance, economics, leadership and more, and directly apply these lessons throughout the entire process of creating and building Beckatt to the company it is today," said Storey.


"The Webster MBA program also helped me develop my leadership and interpersonal skills, by working directly with classmates and instructors throughout the program," said Storey. "These skills have been invaluable in allowing me to work with, manage and lead our team at Beckatt, and while working with my business partner. Starting Beckatt Solutions was a real challenge and quite scary at the time. But everything I learned while getting my MBA from Webster has greatly helped make the transition from employee to entrepreneur much easier."
Connecting Printing Hubs to Distribution
In addition to providing 3D printing services for hospitals in need, Beckatt Solutions is participating in 3D printer manufacturer Ultimaker's two-part initiative, which connects 3D printing hubs and distributors to local institutions. Through this global initiative, hospitals can now learn the location of available 3D printing hubs. Beckatt Solutions is a premier distribution partner of Ultimaker 3D printers, which has launched a two-part initiative with partners like Beckatt to help hospitals to quickly replace parts and tools that are in short supply.
The company is offering their resources and capacity on all 3D printers across their four offices to hospitals facing immediate delivery shortages of critical medical parts and PPE. Its Elgin, Ilinois, office, which houses the largest number of 3D printers, will serve as Beckatt's main 3D printing hub, while their offices in Phoenix, Las Vegas and Minneapolis will support the cause with 3D printers of their own.