Alumna Reflects on International Relations, Path to Embassy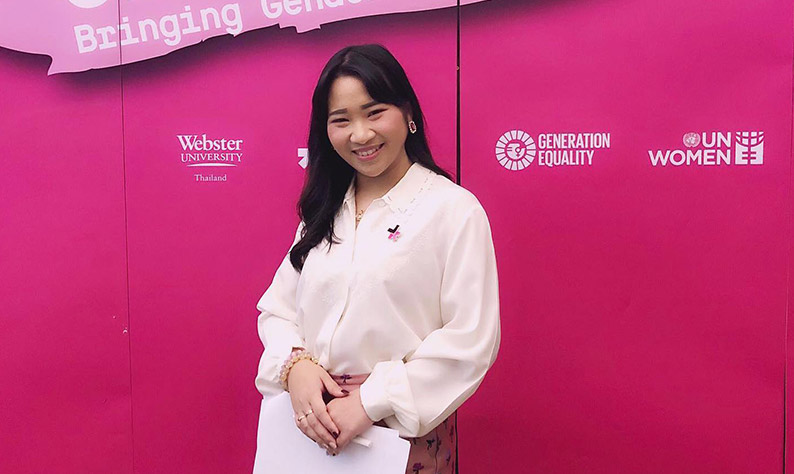 Knowledge was just the tip of the iceberg for Shinakarn Wongbhumiwatana (Chilli), who earned her MA in International Relations at Webster University Thailand.
"My undergraduate studies where focused on British and American Studies and my major was Social Science," she said. "I began to understand the complexities of political and international relations."
Chilli feels like the rest was a matter of the right time and the right place.
"I was interning at the Embassy during the American election of 2016," she recalls. :It was a triggering moment for me in the sense that I understood the gravity of political action in an international landscape. Naturally, International Relations (IR) was the next step."
Chilli was on her path to becoming a part-time professor and joining the Ministry of Foreign Affairs when this an offer to work at the Embassy of Nepal had come along. She is currently a Secretary to H.E. Mr. Ganesh Prasad Dhakal, Ambassador of Nepal to the Kingdom of Thailand.
Chilli signed up knowing that the role would require tackling a range of activities.
"One day I get to be the representative of the Embassy to the outside world and meet with important key-person of Embassies and Government, another day I have to contact A/C technicians to fix the water dripping."
There was retrospective to her decision, which stems back to her years as an undergraduate student: "I was able to observe the ESCAP commissions. We spoke to many experts regarding their diplomatic journey, and this was before I had even known that such a career existed."
Knowledge and interaction made the world a more familiar place for Chilli. However, she did not expect conversations with her fellow graduates to be so enriching.
"When I signed up for the Asian Area Study class, I was a bit hesitant at first because our teacher was an expert," she recalls. "Our classes always included a peer discussion portion."
These conversations were an unexpected learning experience. "My classmates were from Nepal, Bhutan, and India. I learned so much about South Asia and the various perspectives of international politics. It strengthened my realization of political matters in such a diverse setting."
Chilli says her academic experience was of equal importance because it built a technical foundation: "I cannot imagine how hard to would have been if I had not understood many of the diplomatic terms and the process organizations required for my work. I am able to manage these tasks with ease because of my IR background."
Learning from history includes analyzing mistakes, what caused them, and how to prevent them from occurring again. Chilli believes this concept should be applied to individual growth, too: "I joined [Webster's IR] program with the confidence that my knowledge would easily allow me to excel. However, it became a crutch because I was afraid to make any mistakes. It took a bit of mental reprogramming to realize that human errors are also learning opportunities."
Chilli encourages future IR students to wear their mistakes and treat them as learning experiences.
"You have to be able to establish your opinions with knowledge, and the best way to do so is reading," she says. "No opinion or perspective is wrong when you have the basis for it. Embrace unknown events and terminologies because they are the foundation for your academic success."
Today, Chilli credits the investment in education to the transition into her career. "The time you spend reading academic publication simply to extract the one or two sentences that apply to your argument is the greatest life-lesson moment," she says. "You have to apply that same patients and diligence into your professional life."