Annual Faculty Photography Exhibition Oct. 16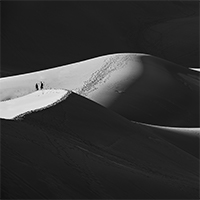 The opening virtual reception for the Annual Photography Faculty Exhibition is on Friday, Oct. 16 from 5-6 p.m. CDT.
Faculty members who taught photography at any of Webster University's campuses in 2020 were invited to participate, and this year's exhibition includes faculty members from Thailand, Switzerland, the United States and Uzbekistan.
The exhibit will run from Oct. 16 to Nov. 20.
Faculty from the Webster University photographers include Francesco Arese Visconti, Robin Assner-Alvey, Thomas Barkman, Bill Barrett, Dan Dreyfus, Krista Rose Frohling, Christine Giancola, David Hanlon, Vincent Isner, Dominique Macaire, David Moore, Erica Popp, Buddhaporn Srisupawat and Matt Weber.
View an online gallery of exhibition images here.
Click here to register for Oct. 16 Annual Photography Faculty Exhibition.