In Athens, Students from 5 Countries Discuss 'Science in the News' GCP Course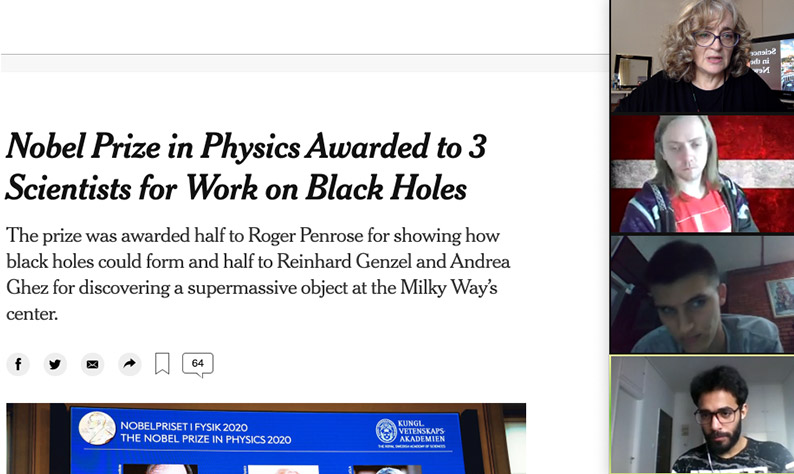 Given the spread of a pandemic affecting society and economies in every corner of the globe, it was a timely year for Webster University students from Greece, Denmark, Russia, Ghana, and the United States to take the "Science in the News" course, which was offered at Webster Athens as part of Webster's Global Citizenship Program general education curriculum.
The course started on-site at the Athens campus in January 2020; as the pandemic spread and the course transitioned to online meetings for safety, class discussions became especially relevant amid an urgent need for accurate, scientifically grounded information about this global disruption.
Students tuned in twice a week for more than two months each term to discuss and analyze major scientific issues impacting our lives around our world.
"We are living in the era of 'new media' and 'citizen journalism,' where interactivity, transparency and immediacy is vital," said Anthi Kalomiri, assistant professor and Communications Department head at Webster Athens. "Media literacy is more crucial than ever before, as selecting trustworthy and valuable information ensures we don't become influenced by the widely spread fake news and misinformation."
How Global Experiences Affect Perspective
"We discussed with students from all over the world, who had different experiences and points of view, how the process of perception affects science and its impact on the news, and how media and people influence science and scientific progress," Kalomiri said.
"The focus right now should be on stopping the pandemic, not blaming others for starting it," said Christian Guldager, a BA Science Psychology student from Denmark studying at Webster Athens. "It is ironic that when we did nothing but focus on combating the virus, nature finally breathed. If we all try to rely more on other transport options like cycling, walking or using less polluting public transport, the climate might have a chance to finally recover."
"Economic growth is important but should never overshadow our health," said Guldager in his final assignment article, "How Covid-19 Changed the World for Better or Worse."
Coursework Expands Media Literacy
As Guldager mentioned, this project helped him "explore all sides and effects of the pandemic." The research for his coursework helped him "differentiate between reliable and unreliable sources and gave me the skills to make informed, ethical judgments focusing on the scientific aspect."
"I learned that we need to work together as a community ... I believe that this experience has helped me to be part of something bigger, the so-called 'global citizen.'"
Indeed, as part of the Global Citizenship Program, the course uses dialectic reasoning methodology to analyze social, political, and ethical policies, weigh values, and make informed judgments about issues such as human evolution, genomic medicine, climate change, and clean energy.
The Global Citizenship Program, as a cornerstone and signature program of the Webster University liberal arts curriculum, prepares and allows students to apply their personal experiences in an academic setting, where they will learn to think critically, communicate effectively and develop their problem-solving skills. This well-rounded approach to knowledge guides students to become informed and responsible citizens of the world and face multiple personal, professional and diverse challenges.
Impacts of Climate Change in Scandinavia
"Climate change could be the reason to reunite with nature and not to lose the connection with it," said Ignatios Nesposountnii, a Media Communications student from Moscow, in his article examining "Scandinavia of the Future."
"I expand on the fact that climate change is going to happen," said Nesposountnii. "Scientists have called for the drastic reduction of gas emissions and dairy production as the only way to prevent global warming and climate change. But the chance to do that is melting faster than the Arctic."
In "Science in the News," students discussed the ethical dimensions of science and scientific discoveries, and the value of the quality control of information using scientific facts and reliable sources. They explored how "adopting a holistic and balanced view involves focusing on the message, and not on the messenger," Nesposountnii said.
Combining Personal Passion and Learning
Timothy Radomile, a senior International Relations major and study abroad student from Webster Ghana, wrote about the "Effects of COVID-19 and Climate Change on the Athletic World." He expressed his concern that "the following year will be difficult for the sporting industry as not only must it recover from the effects of COVID-19, but also take part in helping combat pollution and climate change to maintain proper and healthy conditions for hosting athletic events."
"Athletics are a prominent part of our culture and carry a weight almost parallel to religious activity," Radomile said. "Our human nature will never let it go, so if we do not engage in doing it sustainably, it may let go of us."
"I was very happy to have the opportunity to do this (project) as my final assignment, as I am not someone who has any experience with climate change, even science in general," said Radomile in his video about his final project. "It is not my expert topic or my major, so I have not been engaged in this before, but I am engaged in athletics and I am loving the fact that I was able to combine something I like with something I am learning about."