Read, Reflect, Discuss: Join the Chancellor's Book Circle in 2020-21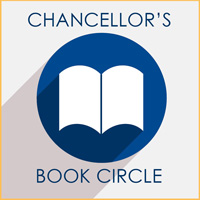 Chancellor Beth Stroble invites Webster University faculty and staff throughout the global campus network to join her for the Chancellor's Book Circle, a new venue for engagement via Zoom during the 2020-2021 academic year.
Next Book Circle meeting: Dec. 9 and Dec. 17

With social distancing and event limitations the norm this year, the Chancellor's Book Circle will provide another avenue for members of our community to connect across campuses and departments in an informal, collegial environment.
"My hope is that participants will create a supportive community in which we can share our stories and experiences, gain knowledge that will strengthen an inclusive community, and build new relationships among us as colleagues as we explore topics of significance to our university, nation, and the world," Stroble said.
Fall 2020 Selection
For the first book, Stroble has selected Invisible Women: Data Bias in a World Designed for Men, by Caroline Criado Perez. Invisible Women is the winner of the 2019 Financial Times and McKinsey Business Book of the Year. Perez reviewed hundreds of global studies to identify how gender gaps in data are both a cause and an effect in the disadvantages women experience around the world. The book is available at no cost to Webster community members through the MOBIUS Library Catalog: https://bridges.searchmobius.org/record=b3363580~S9.

Book Circle Dates and Registration

The anticipated fall 2020 dates for the Book Circle, with each meeting held from noon-1 p.m. Central:
The Spring 2021 dates and book are TBD.