Spring Book Circle Selection: 'Braiding Sweetgrass'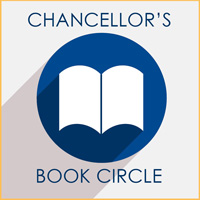 Chancellor Beth Stroble invites Webster University faculty and staff throughout the global campus network to join her for the Chancellor's Book Circle, a new venue for engagement via Zoom during the 2020-2021 academic year. For the second book, Stroble has selected Braiding Sweetgrass: Indigenous Wisdom, Scientific Knowledge, and the Teachings of Plants, a work of literary biology weaving Native American stories and traditional and scientific understanding of the plants of her home in upstate New York while touching on her experiences with motherhood and engaging her students.
To access the eBook from Webster University Library, go to https://bridges.searchmobius.org:443/record=b3193672~S9 and click on the Webster Eden link.
Book Circle Dates & Registration
The Spring dates for the Book Circle, with each meeting held from noon-1 p.m. Central:
Wednesday, Jan. 13
Wednesday, Feb. 17
Wednesday, March 17
Wednesday, May 12
Spring 2021 Selection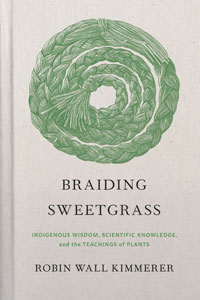 Kirkus Review calls Robin Wall Kimmerer's 2013 book, Braiding Sweetgrass: Indigenous Wisdom, Scientific Knowledge, and the Teachings of Plants, "a smart, subtle overlay of different systems of thought that together teach us to be better citizens of Earth."
Jane Goodall says "Robin Wall Kimmerer has written an extraordinary book, showing how the factual, objective approach of science can be enriched by the ancient knowledge of the indigenous people. It is the way she captures beauty that I love the most--the images of giant cedars and wild strawberries, a forest in the rain and a meadow of fragrant sweetgrass will stay with you long after you read the last page."
Kimmerer describes herself as "a mother, plant ecologist, writer and SUNY Distinguished Teaching Professor at the SUNY College of Environmental Science and Forestry in Syracuse, New York. She serves as the founding director of the Center for Native Peoples and the Environment whose mission is to create programs which draw on the wisdom of both indigenous and scientific knowledge for our shared goals of sustainability." She is a member of the Citizen Potawatomi Nation.
Meet the author in these videos:
United Nations: 5th Interactive Dialogue on Harmony with Nature: Robin Wall Kimmerer
https://www.youtube.com/watch?v=N82_sYUWcZ4
Reclaiming the Honorable Harvest: Robin Kimmerer at TEDxSitka
https://www.youtube.com/watch?v=Lz1vgfZ3etE