Communications Students Showcase Internship Experiences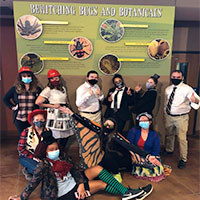 This fall, students representing all three departments within the School of Communications participated in on-site and remote internships for credit. The Internship Program in the School of Communications is strategically designed to offer a comprehensive academic and real world experience combined with professional development, equipping students to be successful professionals in their chosen field of study.
On Dec. 2, the School of Communications Internship Program hosted its Fall Virtual Internship Showcase and Poster Presentations presented by 23 interns under the leadership of Trezette Dixon, director School of Communications Internship Program.
The poster presentations showcased their academic application, career development, industry contributions and site observations, using Zoom Webinars as the virtual format. Internship site supervisors, students, family, friends, faculty and staff of the university attended this unique event that allowed everyone a glimpse into the life of an intern.
School of Communications Fall 2020 Internship Cohort
Relevant, Memorable Experiences
Feedback from internship supervisors spoke to the students' professionalism and enthusiasm. "Sydney from the start was eager to work in multiple areas of the company and is currently spearheading an internal video project that has a lot of responsibility," said Eric Habert, president and CEO, Lifetime Media. "Sydney has excellent organizational skills which is helping her time manage the various projects and responsibilities allowing us to push her further in her development."
Gracie Downs shared how her role as a marketing intern at That Uppity Theater Company proved timely, who had the opportunity to work on the national campaign Dance the Vote during this election year. "Since my internship focuses on voter advocacy and registration, I knew the work I was going to do would help make a difference," said Downs. "It is the reason that I chose this internship, and I am glad that I am not only growing professionally, but civically as well."
"It is exciting to see these talented students thrive in their internships," said Dixon. "I have been asked if organizations are still hiring interns. The answer is yes, but you have to be prepared, qualified and talented, like our students, to compete for the internships that are available. I am so proud of our students and how they represent the School of Communications and Webster University."
All the posters can be viewed on SOC HUB, Fall 2020 Internship Showcase "Meet the Interns."