Face Coverings Required for Employees Visiting Campus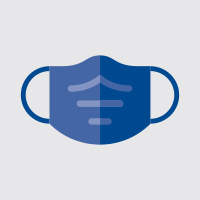 Employees who are approved to visit the main campus in Webster Groves for essential on-campus activities should be aware of the St. Louis County requirement to wear a face-covering ("mask") when not alone in an enclosed office.
The County's May 18 public health order amends "at home" restrictions and outlines requirements for business operations and public activities. Included in the order is the requirement that "All Businesses shall require employees or volunteers to wear Face Coverings while at work unless such employee or volunteer is working alone in an enclosed area or has a medical reason not to wear a Face Covering."
You may bring your own face covering, which is also required in several other non-work settings by the public health order. However, if you do not have one, you can stop by Public Safety and be provided a disposable mask. You are not required to wear the face-covering while alone in an enclosed office, but you are otherwise required to wear it while on campus unless you have a medical reason not to.
The requirement of face coverings is one of several aspects of public health guidelines to help slow the pandemic, which also includes following Social Distancing and staying home if you have symptoms.
As a reminder, Webster's May 11 announcement that Modified Operations will continue through June 15 remains in effect. That announcement reiterated that any employees who must resume on-campus activities for various essential reasons before that date must have the approval of supervisors and must notify Public Safety prior to entering campus.