First Virtual TAP Program a Success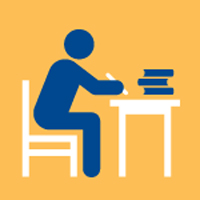 The Transition and Academic Prep (TAP) program is an intensive program for Transitions students (students who are conditionally-admitted first-time freshmen or transferring with fewer than 30 credit hours). This year, the TAP program included fully-admitted students as well, and ran from July 15-24. It included 10 days of virtual delivery amid COVID-19 restrictions.
The 2020 TAP cohort was the second largest to date with 36 participants. The program included two credits of WRIT 1000 - Basic Writing Workshop and one credit of EDEX 1500 - Webster 101, marking three credits for successful completion of the program.
TAP focused on sharpening writing and research skills as well as increasing awareness of campus and community resources to support students' overall development at Webster. As in past years, each student submitted an individualized student success plan to help frame academic success, interpersonal relationships, wellness, and financial planning.
TAP 2020 Experience
In the virtual environment, students showed great engagement during classes, group sessions, and individual appointments. The program meeting platforms included WebEx and Zoom, both of which were positive experiences for participants and presenters.
Students met with faculty, staff, and current students to develop their support networks via panels and workshops. During a faculty panel, Nancy Haparimwi, Jong Bum (JB) Kwon, Eric Rhiney and Tasha Scola discussed advising, communication strategies, and myths of the classroom. In a separate panel, students were able to spend time discussing navigation skills with and gaining advice from current students. This year's program also added a focus on improving financial literacy through developing spending plans and understanding credit.

Participants had compulsory meetings with writing coaches to supplement their WRIT 1000 assignments, financial aid counselors to understand financing college, and an academic counselor to map out academic and personal goals for the school year.
The program concluded with a farewell ceremony featuring remarks and well-wishes from Chancellor Elizabeth (Beth) J. Stroble, Transitions/TAP Coordinator Corey Hawkins, First Year Experience and Undergraduate Persistence Assistant Director Vanika Spencer, TAP 2017 participant Travis Haughton, and Kwon.
Feedback from Students
Because COVID-19 abruptly interrupted their spring semesters, students indicated how a lack of school-related activities affected their focus in preparing for the fall semester at Webster. Many participants expressed an increased sense of readiness for the academic year as a result of TAP

Students also expressed the tremendous amount of gratitude for their WRIT 1000 instructors and writing coaches. The instruction they received either helped improve their writing skills or let them know where they need to seek assistance.
A variety of University contributions help make TAP successful.
Academic Affairs - Funded program costs and tuition for three academic credits
Academic Advising - Assisted with student registration and marketing of the program at virtual advising appointments
Career Planning and Development - Facilitated a workshop regarding early career planning and services provided by the department
Counseling and Life Development - Led a session on the emotional rollercoaster of college and resources available to support students
Emerson Library - Introduced students to the library and its available resources
Faculty - Met with students to discuss success in the classroom and answer questions. The Department of English coordinated the curriculum and provided instructors for WRIT 1000 - Basic Writing Workshop
First Year Experience and Undergraduate Persistence - Lead the EDEX 1500 - Webster 101 curriculum and facilitated first-year navigation sessions
Office of Admission - Recruited conditionally-admitted students for participation in TAP
Office of Financial Aid - Held one-on-one meetings with students to help them understand their financial aid awards
Student Employment - Explained the job-seeking process, including the Handshake system and the types of campus jobs
Title IX - Provided information and resources related to the University Title IX office
Other sessions from the Academic Resource Center (ARC) included:
Academic Expectations – Carolyn Brown
Citation Workshops – Carolyn Brown and Kristin Cobos
Inclusion and Equity Workshop – Corey Hawkins
Time Management – Lisa Hempen
Writing Coaching – ARC Writing Coaches
Additionally, the Scholarship Foundation of St. Louis and St. Louis Community College provided supplemental financial literacy and spending plan sessions, respectively.
About Transitions and Academic Prep (TAP)
TAP was first instituted as part of the larger Transitions program in 2011. Many of the students in the Transitions program, designed for freshmen and transfer students with fewer than 30 credit hours who are conditionally admitted to Webster, are first-generation college students. However, the TAP program has recently included, and targeted, fully-accepted students.
The overall goal of the program is to assist these students in navigating college and persisting to graduation. TAP enhances this success, raising the persistence rates of these students – often above first time, full time freshman cohort rates – as the students are better equipped to start Fall courses. Transitions students also have targeted supports throughout their first semesters.