Chief Diversity Officer Vincent C. Flewellen Honored by Business Journal for Leadership in the Community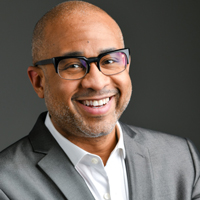 Webster University Chief Diversity Officer Vincent C. Flewellen was named to the St. Louis Business Journal's 2020 Class of individual Diverse Business Leaders, it was announced today. He was honored for his decades of work promoting diversity, equity and inclusion in education.
Flewellen will officially be inducted into the class during a virtual awards event on Sept. 29. A special edition of the Business Journal naming all the inductees will be distributed Sept. 25. [Update: Read the Q&A with Flewellen in the special edition of the Business Journal.]
"Vincent's contributions to discussion and action around equity and inclusion have expanded and improved all of our diversity initiatives at Webster. Through his leadership role, he has given us the tools to deepen our own learning and to engage constructively with one another about how to recognize and overcome the barriers to the equity and success we seek for our students and our community, " said Webster University Chancellor Elizabeth (Beth) J. Stroble. "I heartily congratulate Vincent on this well-deserved recognition."
Flewellen has been the chief diversity officer since joining Webster in 2018. During that time, he has expanded the role of the Office of Diversity and Inclusion to work with students, introduced the popular "Witnessing Whiteness" program for employees, oversaw the expansion of the annual Diversity & Inclusion Conference from two days to four days, helped attract national-level speakers to the conference, and started the bi-weekly "Webster Speaks" virtual discussion series that explores diversity and inclusion issues in the St. Louis region.
"Vincent has had a meaningful impact on the University and the surrounding community," said Webster University President Julian Z. Schuster. "He has collaborated with numerous departments and organizations to raise awareness of diversity and inclusion and find meaningful ways to address the issues. I can't think of anyone who deserves this honor more than Vincent."
Before coming to Webster, Flewellen served as the director of equity and inclusion at the College School of Webster Groves. The College School is a private, independent school focused on educating children from pre-kindergarten through eighth grade by using experiential learning and other techniques. Webster University and the College School are long-time partners with historic links.
Flewellen also has served as the director of the University City Children's Center, taught in the Ladue School District and for the Mary Institute and St. Louis Country Day School, and served as an adjunct instructor of social work for Washington University's Brown School of Social Work. In addition, he served as a consultant to Washington University in 2006 and 2007, as well as a consultant on diversity and inclusion issues for a variety of schools and organizations, including: the Kirkwood School District; the John Burroughs School; the Forsyth School; the Cochran Community Center; and FOCUS St. Louis.
Flewellen has also served as the director of development for the St. Louis non-profit Neighborhood Houses (now known as Unleashing Potential). Flewellen served as a managing director of program for Teach For America in St. Louis, and he was a coordinator for the Missouri Coalition for Lifesaving Cures.
"My passion for diversity, inclusion and equity issues was instilled in me at a very young age and represents a life-long passion," Flewellen said. "I am humbled to be recognized by the St. Louis Business Journal and the community for my efforts to contribute to the discussion on how we can be inclusive of everyone in our community."
Flewellen holds a Master of Social Work from the Brown School of Social Work at Washington University, and his BA in Education is from Maryville University. He is currently pursuing a Doctorate of Education through Webster University's School of Education.
The award was established more than a decade ago and honors those who promote diversity around race, sexual orientation and disability in the St. Louis region.