Webster Journalism Graduate Wins Regional Emmy for Mental Health Series
CHARLOTTE, NC - When Haley Walter graduated from Webster in 2018 with a degree in journalism and moved to Charlotte, North Carolina to start a new job at WSOC TV, she was excited to start her career as a journalist. Now she is the recipient of a Mid-South regional Emmy, along with her teammates, for their work on a project to bring awareness to mental health.
The project, according to Walter, was the brainchild of the broadcast side of the news station back in May of 2019. "They wanted to put together an on-air broadcast special and a digital special that really emphasized mental health and mental health resources," she said. "I work on digital, so my job was to put together a digital resource package that emphasized the resources in the Charlotte area."
Walter said that she and her team vetted different resources, therapists and psychologists in the 22 counties the make up the Charlotte region, then put together a resource guide and made an interactive map that is available to anybody who would like it. "Our editors put together different videos on how to get help: how to be a bystander, how to see somebody who might need help, how to reach out to somebody, how to find help," she said. "Essentially, it's just a big page where anybody who wants help can find it." She went on to say that any mental health story that comes the station's way also gets posted on the webpage.
The webpage and the resource guide got nominated for the Emmy in November of 2019, according to Walter.
When she first found out that her team's project won the Emmy, Walter said that she was really excited. "Now, I kind of keep it on its a little shelf, but I try not to look at it or get too excited about it too much. That way I don't get a big head about it."
She went on to say that winning the Emmy has been very rewarding for her personally. "Being somebody that has dealt with mental health issues myself, it was really rewarding to be able to put together this big project of mental health resources and to really give something to the community that has given me so much, and then to have it be rewarded back is really humbling. And it makes me want to keep doing that work," she said. "I think it's really important that mental health stories keep being told."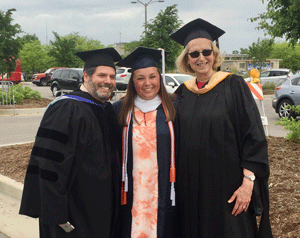 Walter said that both the professors she encountered and the classes she took at Webster prepared her for a successful career in journalism. "Mary Cox and Larry Baden were my two mentors, and I would not be where I am without them. Mary was the one that connected me to WSOC and helped me reach out to different news stations, so I think that just being able to work so closely with the professors and to have those resources available to me really prepared me well to be able to go out into WSOC and being able to go and do my job successfully."
She continued, "Introduction to Journalism, as well, and those first couple of classes, where they really just get to the nitty gritty of what it's like to be a journalist and reporting and just what it's going to be like once you get into your career. That's when I knew that this is what I want to do for the rest of my life."
"Mental health is just such an important thing to talk about," Walter said. "And this project was so important to me and the station. WSOC is really big on talking about mental health and mental health awareness, especially right now during the pandemic, where everybody's mental health is strained. So back when we first started talking about this project, we really wanted to put an emphasis on destigmatizing mental health."
She continued, "I think that my team and I were so humbled to be able to win the Emmy together and to be able to say that we as a group are able to continue moving forward this message of mental health awareness and destigmatizing mental health. That's the message that we want to be able to continue bringing to not just Charlotte, but to other communities, too. That's the hope that we want to keep bringing to other people."
Walter offered some words of advice to those looking for their own success. "Don't be afraid to fail," she said. "Your time will come. It takes time and patience to get to where you're going, but eventually you'll get there, and it'll be worth it in the long run."
To see the project that earned the Emmy, visit: https://www.wsoctv.com/mental-health-resources/.
For more information about Webster University's School of Communications, visit https://www.webster.edu/communications.