In the News: Weeks on space law, Polgar on 'Queen's Gambit'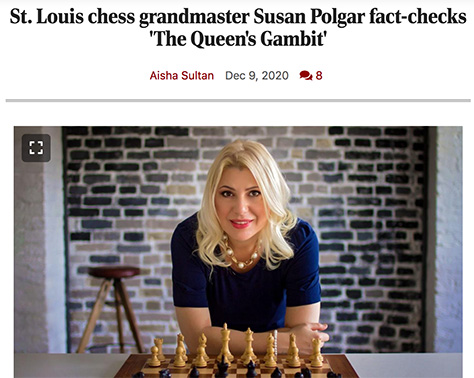 Recent news media coverage featuring Webster University faculty and staff expertise includes:
Polgar on 'The Queen's Gambit'
Webster University chess head coach Susan Polgar was quoted in the St. Louis Post-Dispatch about what the popular Netflix series "The Queen's Gambit" got right and wrong about chess. The story, "St. Louis Chess Grandmaster Susan Polgar Fact-Checks 'The Queen's Gambit'" ran in more than a dozen newspapers across the country.
Polgar also appeared live on St. Louis TV stationFOX 2 news for a discussion about the television show and the rising popularity of chess.
In a separate but similar article, a newspaper in Hungary mentioned Polgar and Webster University in its look at all of the top chess players from that country, in reference to the Netflix show.
Weeks Discusses Laws Governing Outer Space
Edythe E. Weeks was profiled by the online blog E-International Relations about the area of space law, the international set of rules that govern nation-state behaviors in outer space.
"Although outer space development and space law sound strange to most people, the first and second wave of outer space development have already happened," Weeks said in the in-depth interview.
"Throughout the world, it is now common for people to use cell phones, the Internet, debit or credit cards and ATM machines. These everyday goods and services stem from technologies ushered in via space law and located off Earth – in the territory known as outer space."
Weeks is an adjunct faculty member in the Department of History, Politics, International Relations and Religious Studies, in Webster's College of Arts & Sciences.