New Website Launched, Connections Coming: Tips for current students
Webster has relaunched its external website with a fresh design that is more tailored to prospective student audience. This is part of a digital shift, where many internal functions and materials for current students will move to the internal portal ... which means a new version of Connections is coming in January!
The new and improved Connections will include much of what students used to find on the webster.edu website.
Frequently Used Links
In the meantime, here are some tips to help current students navigate to some important resources:
The new website is optimized for mobile devices -- scroll to the bottom of any page to find some of your most-used links like Connections and Worldclassroom. We encourage you to explore the site -- on your phone, tablet, and computer. Several important links have been placed in this "footer" area and include, but are not limited to:
Connections Portal

Student Counseling Services

Course Catalog

Access to the Archived Website (for resources that haven't migrated or will move to Connections)
You might want to bookmark the Current Students link (also in the footer), which lists these and many more resources.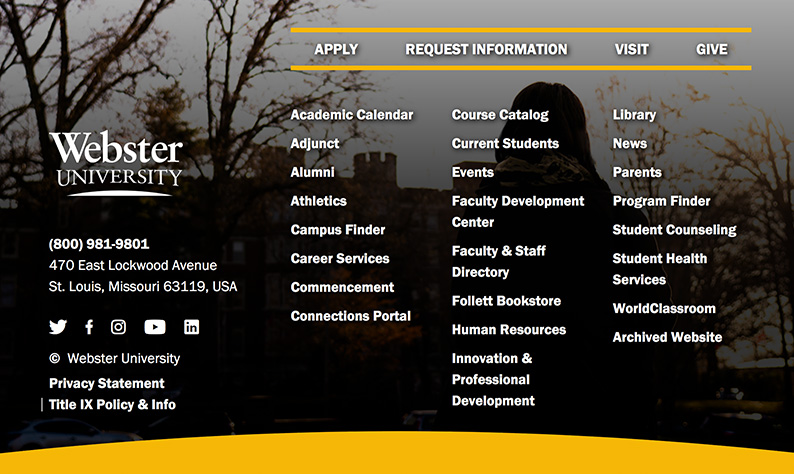 Above: Frequently used links for current students can be found in the footer of every page.
Transition: As Webster prepares to migrate internally-focused content to the new intranet in January 2021, the old site content can be found by clicking on the Archived Website link found at the bottom of any page on the new webster.edu site.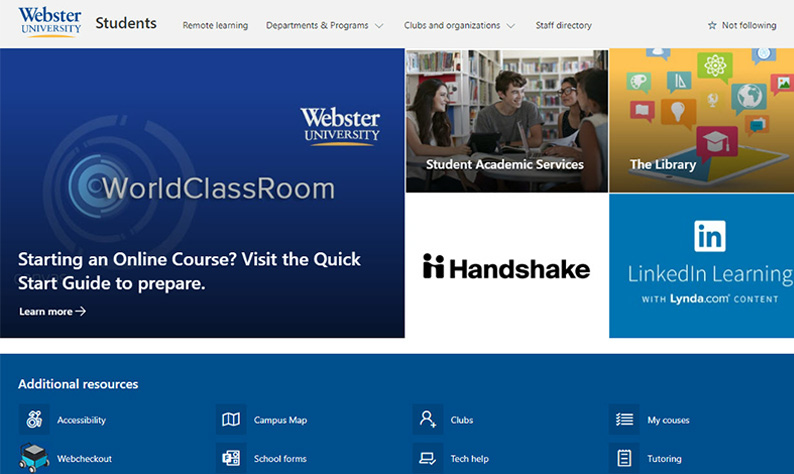 The next version of Connections will be mobile-friendly and include many self-service functions for current students and employees.
Intranet Site: The new version of Connections will replace what you currently experience as Connections. The intranet will act as a centralized location for access to many of the important links, departments, forms, technology, and much more that any current student, faculty, or staff member would need.
While this transition will take some adjustments and require corrections, in the end this will create a more user-friendly -- and mobile-responsive -- experience for current and future students!