Poet Jonah Mixon-Webster Joins English Department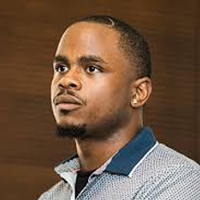 The Webster University College of Arts & Sciences and English Department are proud to welcome Jonah Mixon-Webster as the Visiting Assistant Professor of Poetry.
Born and raised in Flint, Michigan, Mixon-Webster holds the BA and MFA from Eastern Michigan University, and the PhD from Illinois State University.
Mixon-Webster's first book, Stereo(TYPE), won the Sawtooth Prize from Ahsahta Press and the 2019 PEN America/Joyce Osterweil Award, and was a finalist for the Lambda Literary Award for Gay Poetry. An expanded edition of Stereo(TYPE) will be reissued by Knopf in 2021.
He has won the Vermont Studio Center/Callaloo Poetry Fellowship, a Restorative Narrative Fellowship, and a PEN America Writing for Justice Fellowship for his ongoing multimedia project, Protocol: An Investigation of Policing Methods in 21st-Century America. In 2020, he was awarded the prestigious Windham-Campbell Prize for Poetry from Yale University.
Mixon-Webster's research and teaching interests include paracolonialism, the Black Arts Movement, queer literary theories, and experimental performance/digital arts studies. He is the co-leader of the PEN America Detroit Chapter, and has worked on social justice issues like the Flint Water Crisis and mass incarceration.
His works have made an impact on colleagues and readers alike.
"Jonah Mixon-Webster believes art, in particular poetry, can save lives," said poet Derrick Harriell, director of the MFA program at the University of Mississippi. "At the core of his work is thought-provoking honesty. His readers are pushed to think and access and then re-access our own stereotypes and assumptions."