Chancellor Stroble: We must innovate to advance success for students' diverse needs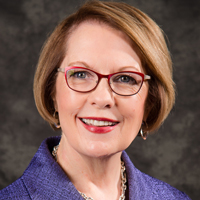 Webster University Chancellor Elizabeth (Beth) Stroble authored a chapter, "Innovating to Advance Success for Students' Diverse Needs," as part of the President to President higher education thought leadership series.
The 2019-2020 edition of President to President, titled "The Next Big Thing," explores how higher education institutions can address ever-evolving student and parent expectations, learning needs, shifting demographics, and more.
Citing recent Webster initiatives, Stroble notes that there is "no single solution" for colleges and universities to address the changing "dynamics of how we educate, whom we educate, for what purpose, and with what value."
"We know that students' lives and careers are being shaped by emerging trends in technology, big data, and artificial intelligence. At the same time, humanity's most pressing issues—hunger, poverty, security, inequality, health, and education—make preparing students as global citizens an urgent issue and measures to increase greater understandings of one's self and others worldwide a priority. The need for ongoing, life-long learning is increasing at the same time that economic conditions have challenged students and their families, making affordability and value important concerns for them and for us. Changes in the demographics of college-goers mean that those we have typically identified as non-traditional are now in the majority. As a result, universities that thrive will tailor the innovations they adopt to meet the needs of an increasingly diverse student population with the intention of advancing both access and success."
To illustrate the range of approaches this setting requires, Stroble cites two Webster programs that address very different student populations: The TAP (Transition and Academic Preparation) summer bridge program to aid the transition for incoming first-time undergraduates, and the Online Learning Center's quality improvement initiatives that addressed retention and support needs for students who take online courses, who represent more than 60 percent of the total student population.
Among the outcomes: "stronger progression to degree for more students and diminished numbers of students facing academic discipline such as probation or dismissal."
"These initiatives are but two of many innovations already in place or under development to meet the twin needs of access and success," Stroble writes, before noting two programs introduced in 2019-20 to achieve greater success for black undergraduate students at Webster.
Read the full chapter at President to President here.
In addition to the chapter's citations, Stroble thanked faculty and staff colleagues "who show such a commitment to meeting each student's needs through the innovations described in this chapter. Their cooperation in providing program details and data points were essential to this story of student success initiatives at Webster University."