Webster Student Literacy Corp Continues to Virtually Assist Area Students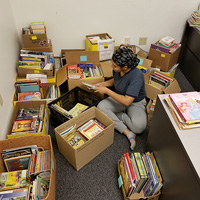 The Student Literacy Corps (SLC) is a community service program through which Webster students are trained and placed as reading tutors serving new and struggling readers in schools and other educational programs throughout the St. Louis area. This is the program's 29th year.
Under normal circumstances, SLC tutors travel to their tutoring site to provide weekly one-on-one and small group sessions for students who need additional support with reading or writing.
As face-to-face classes ceased in response to COVID-19, elementary and secondary schools struggled to retain a connection with their students in a very different format. Kate Northcott, director of the SLC, contacted tutoring sites to let them know that tutors remained available to support their students in any way they could. The first to respond was Haoli Collings, a third-grade teacher at the St. Louis Language Immersion School. Collings had supervised tutors in her classroom before and was sure they could do the job online as well. She has been managing online tutors for her students since late March, and her students, their parents and the tutors themselves are pleased with the results.
"I just wanted to give great thanks to all of the student tutors' support," said Collings. "As you know, remote leaning is new and challenging in that we cannot get together to plan or design the lessons, and they also did not have a chance to meet the students ahead of time to learn about each of them. But I am amazed by how fast they all can adapt and be involved in a very short time. They were very professional, flexible, and creative with their online lessons."
One of these dedicated tutors is Abigal Anderson, and she is currently working with third graders in English Language Arts Standards. English and language arts are two of the most basic and widely taught subjects in US schools. This is the first time Anderson is working with elementary students. She has created fun worksheets and games to keep her students engage and learn different parts of speech, like nouns and adjectives.
"Working from home has been something I've had to adapt to quickly. I never imagined that the first time I would be working with students it would be through video chat," said Anderson. "Trying to find ways to help students understand important concepts while keeping them engaged has been an important aspect of all this. As a commuter student who lives a bit far away, working from home has given me a few extra hours each week instead of driving, which is nice."
About The Student Literacy Corp
Tutors commit to a weekly tutoring schedule, and schools allow tutors to work with the same students each week. As a result, tutors and students establish a strong rapport. As they get to know their students, tutors supplement classroom assignments with books or learning games they feel might be of particular interest. Students are proud to have a "college friend" who comes to visit them each week. According to their teachers, working with tutors not only helps students academically but boosts their confidence and classroom participation as well.
The SLC focuses our efforts on schools that serve "high-needs" students, that is, students from low-income neighborhoods, those who don't have a college graduate in the home, or may not have an English speaker in the house.