Uzbekistan MBA Student Awarded Governor's Scholarship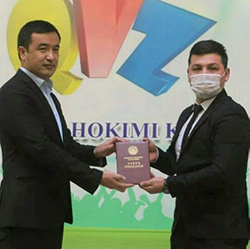 Sarvarbek Ismoilov, currently an MBA student at Webster University in Tashkent, has been awarded the Governor's Scholarship by the regional government of Andijan in Uzbekistan.
Ismoilov and 22 other young people have received one-time scholarships of 4.6 million soums (approximately 460 USD), as well as a desktop computers. The students will also be put on the regional administration's reserve list, meaning they will be first in line to receive prestigious government jobs. All scholarship winners are guaranteed employment upon graduation.
Selection Process and Concept Presentation
Ismoilov and other scholarship winners passed two rounds of the selection process. First, he wrote an exam testing his knowledge of foreign languages and Uzbekistan's politics. Then he was given a chance to work on a personal project.
"In the second stage, selected students are required to work on a project in a direction that is needed in the community and awaits a solution," Ismoilov explained.
The MBA student presented a concept he developed, titled "Improving Agrologistics Infrastructure to Improve the Cluster System in Agriculture in Uzbekistan." The topic was appreciated by the jury since Uzbekistan is actively developing business clusters, with those in Andijan focusing on cotton processing, grain production, and growing and processing fruits and vegetables, among other products.
Ismoilov wrote in a message, "I am very happy that such a high level of attention is paid to students by our country. That is why I would like to express my colossal gratitude." He is among the first young people to receive the Governor's Scholarship, which was established last year.
The awarding ceremony was held at the Regional Youth Center in Andijan in connection with International Students' Day. Currently in the region there are four universities with approximately 36,000 students, of whom about 1000 are pursuing their master's degres.