Task Force Message: Reminder on masks and health protocols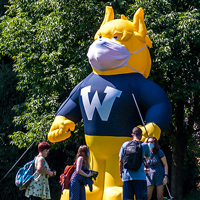 The following message from the Task Force on Transition and Adaptability was distributed on Aug. 26, 2020.
To the Webster University community,
We are writing today to stress the importance of President Schuster's message issued earlier this week and to underline the need for everyone in our community to follow the health protocols our University community has established.
If everyone follows the policies we have set out through the COVID-19 Task Force and the various working groups informing the Task Force on Transition and Adaptability, we can limit the transmission of the virus in our community. This means reading the COVID-19 resource pages and performing the daily health check, wearing a mask, social distancing, frequent hand washing, and following other health guidance. This also means reading your e-mail for updates.
As the president's message noted, members of our community should be wearing masks both inside and outside, in accordance with government health guidelines, although they are not necessary when alone in your own office, cubicle or residential room. Some facial coverings do not meet the proper standards as outlined by the Centers for Disease Control (CDC). Those facial coverings include: bandanas, neck gaiters, and masks with valves or vents. Members of our community should use face masks that meet CDC guidelines for safety during the pandemic. Those members of our community who find themselves without a mask may report to Public Safety to receive one, or they can be found in dispensers around the Webster Groves campus.
We urge everyone to reach out to your colleagues in our community. Support them through this challenging time and create the healthy and safe atmosphere that will be necessary for us to continue our important educational endeavors.
The Task Force on Transition & Adaptability