Webster Degree Prepares Grad for Thailand National Defense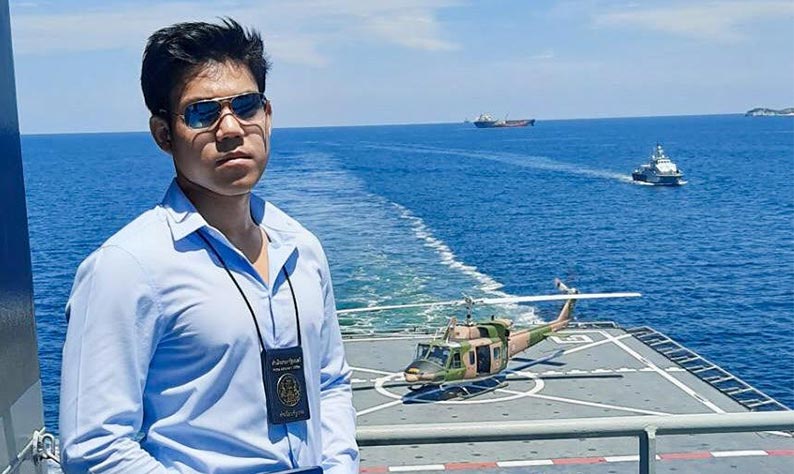 When Thitiwat Duangthawee (Emmett) decided to join a graduate school, he realized that his path would help him understand how the world works.
"I wanted to understand and decipher the complexities of different parts of the world," he said. "Countries operate on an international stage, but their reactions or interactions with one-another vastly diverge." The graduate of the MA in International Relations program at Webster University Thailand views international conflicts as a consequential series of events and not just a single action.
Every story is a metaphorical coin according to Emmett: "We know that there are always two sides to the story. Our mind tends to just see it from a particular perspective. IR has taught me to be objective and base my views after I have collected enough knowledge."
The concept has made him realize that there is a grey area in all global situations. "Many conclusions, opinions, and ideas will emerge from any international event," he said. "These concepts may be different but none of them are incorrect. It's simply a point of view. The scholar's job is to build that their theme, work on the knowledge, and finally construct a conclusion."
IR students are exposed to all of the major schools of thought, which include realism, liberalism, and constructivism. Emmett's progression as a graduate student led him to identify as a neo-realist: "I agree with the realist school's main concepts of how states operate. However, this does not limit me to reject the validity of other ideologies. For example, I don't only view the rise of China as only an actual regional security threat. There are many more layers to the matter."
The evolution of IR theories has taken decades. Emmett believes that students should consider themselves as a clean slate ready to learn, "I was not from an IR background and it left me confused for the first two months. The key is to focus on being more industrious and forgiving of one's limitations to participate in every discussion." He focused his energy on acquiring knowledge and learning as a silent observer.
Basics of the Borders 101
During Dr. Balazs War & Diplomacy class, Emmett found himself questioning the fundamentals that the world largely adhered to: "We always learn that democracy is the natural advancements of state," he said. But that class demonstrated the problems with democracy. "The academic discussions like this were my favorite part of studying."
The Webster alumnus has taken these observations and implemented them into his professional life as an analyst for the National Security Council (NSC). "Navigating the multi-layered matters in a security agency are easier to comprehend," he said. "I can also consider sensitive issues that arise with each project."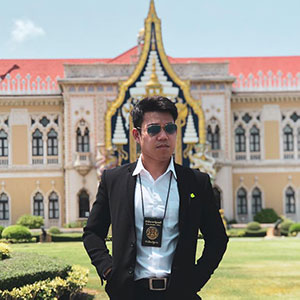 Many of Emmett's colleagues are also from IR backgrounds: "It is common to see people from our discipline in security services and intelligence fields. We bring our academic skills into various discussions that further our collective understanding of an issue."
He recalls being introduced to the nature of security issues in the International Security class. "It was directly linked to parts of my work such as terrorism and weapons of mass destruction," he said. "I was able to gather more information, understand certain analyses, and how they applied to the context of national security in Thailand."
Emmett is also able to better navigate the complexities of security because of his U.S. foreign policy class. He found the subject to have an impact on his work, "Higher levels of security at national and regional levels are complex because there are many stakeholders involved. Although I'm not an expert on policy, I can determine the direction a policy may take in order to satisfy as many stakeholders as possible." Emmett cites Thailand as a recent example: "I believe that policies and the discipline of the general population are a major part of the success in fighting COVID-10 on a national level."
The Next Frontier
Emmett has shaped his academic interest into a passionate career. "My main responsibilities are national crisis management, National Crisis exercise, and assessing threats posed to Thailand," he said. "I have to deal with various military and security agencies and that leads to coordination with many people as well as planning events and meetings."
His work also takes him to the national ocean lines. "My current project is planning maritime defense exercise and maritime threat assessment. So I'm spending a lot of my time in the navy base and naval vessel. I also conduct a lot of intelligence gathering related to the matter."
The analyst credits exposure to be the greatest learning tool: "IR helped me develop an analytical ability for complex situations, monitoring the development of political movements, and the vision to see multiple perspectives. It set me up for my career. I have been exposed to many facets that excite me, such as the intelligence community, military operations, and people of different skills."
What advice does he give to future Webster students? "Prepare ahead before starting the program by doing some self-studying in relevant IR content or explore your interest and try to get some head start in the topic. See what part of IR you're interested in the most and maybe go beyond that."
Emmett recollects the support Dr. Balazs and Dr. Somakian at Webster University Thailand provided beyond the classroom which helped him pursue studies in security. "Speaking to these instructors can help you gain insight on what you need to know not only IR but a wide range of related topics in general."