[Video] Webster Trustees Discuss Mentoring, 'Getting a Seat at the (Corporate) Table' on Webster Speaks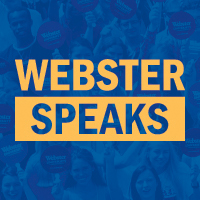 Corporate America is becoming more diverse at the top but still has a long road ahead as it faces both a racial reckoning and a pandemic economy. Still, there's great hope for young and mid-career workers seeking a seat in the C-suite. Five members of Webster University's Board of Trustees, all executives of color, painted an optimistic perspective on the Oct. 14 episode of Webster Speaks: Dialogues on RACE, EQUITY and INCLUSION.
The key takeaways: perseverance, mentorship, and change agency.
The panelists on the episode, titled "Getting a Seat at the (Corporate) Table," were Marvin Anderson, senior vice president and private client advisor at Bank of America; Mark Darrell, senior vice president and chief legal and compliance officer at Spire Inc.; Jovita Foster, vice president and general counsel at Drury Hotels; Atul Sharma, chief human resources officer at EthosEnergy; and Sumit Verma, senior vice president, Commercial Manufacturing, at Iovance Biotherapeutics, Inc.
The panelists agreed that diversity and inclusion are proven pathways to a business's success. "Having a difference of opinion and different perspectives leads to better outcomes, better collaboration, better decision-making," Foster said. "And so, diversity of thought, diversity of past experiences, all of those things are critically important to success in corporate America or in any decision-making setting."
More than a corporate principle, diversity and inclusion have become a measurable investment index.
"A lot of big investors and a lot of large companies [are] actively stating that they want companies to be able to state specifically, what's the diversity makeup of your board? What's the diversity makeup of your senior executive staff? They want to see that information," said Darrell. "They're asking for that information and it's having ramifications in how we look at hiring and who we promote."
Achieving a more diverse C-suite requires more than just hiring people from underrepresented groups; it demands a commitment to changing systemic racism. "Diversity is being invited to the party; inclusion is getting invited for a dance in that party," is the analogy Sharma used. "And what inclusion enables is for all that diversity to work together towards a meaningful path ahead."
That path is not always a smooth one for people of color. Host Vincent C. Flewellen, Webster's chief diversity officer, cited a Center for Talent Innovation report, "Being Black in Corporate America," that found only about three percent of senior leadership roles at large corporations, and less than one percent of Fortune 500 CEO positions, are held by Blacks people.
The study cited an overall lack of mentorship and access to senior leaders as chief causes. The Webster Speaks panelists emphasized that a mix of formal and informal mentoring programs is the best path but stressed assertiveness in seeking out mentorship opportunities.
The best mentors may not be the most obvious. Foster, for example, said most of her early legal mentors were older white men with whom she had little in common on the surface. After an awkward beginning, they soon bonded.
"If you want to get to a leadership position and you want to become an executive, it's critical for any person, no matter your color, no matter your nationality, gender, to have someone or several someones who are showing you the ropes," said Foster. "You also need a series of people who will champion you and who will use the power to leverage that they've built up to help you advance in your career."
Anderson said a mix of formal and informal mentoring opportunities is key. "What I would encourage younger members of the audience to do is to not wait for someone to select a mentor for you, but to go out and to seek a mentor," said Anderson. "And even if you don't call the person a 'mentor,' you can find folks who are caring and who are skilled and can help you get to the next level."
This is particularly critical in the St. Louis area. The Center for Talent Innovation study showed 79 percent of Black professionals in the Midwest report experiencing racial prejudice at work, compared with 66 percent of their peers in the West, 44 percent in the Northeast and 56 percent in the South. Foster said she experienced a few "traumatic" racist encounters in her early career but said she refused to be derailed.
"What I found was, as I said, 'I'm going to keep going. I'm going to keep practicing. I'm going to keep pushing to win these cases and to develop a reputation of toughness,' those [racist] people just fell away." Foster said. "So, by the time I was in the fifth, sixth, seventh year of my practice, I didn't have a lot of those kinds of experiences. And I had a reputation for pushing through."
Mentoring Resources in St. Louis
Fortunately, these executives noted, St. Louis has several strong mentoring resources for underrepresented workers including FOCUS St. Louis, International Institute of St. Louis, St. Louis Mosaic Project and St. Louis Business Diversity Initiative.
Show moderator Earl McCoy, Jr. noted that the Trump administration recently issued an executive order limiting some diversity training at the federal level, a move protested by 150 business and nonprofit groups, including the U.S. Chamber of Commerce. The panelists emphasized the need for a progressive corporate culture. "[Corporate] environment does have a big impact," said Verma. "You know you hear the news, you see these changes, but ultimately – as change agents as well as people who are responsible as business leaders – we need to be those catalysts of change."
Chancellor Elizabeth "Beth" Stroble and President Julian Z. Schuster thanked the panelists individually and as a group, noting their influence as Webster board members.
"Your support just means the world to us," Stroble said. "There is a lot that binds this group of people who are on the screen right now to one another, but it's all about helping Webster live out its values and mission. And I really thank each one of you for tonight and all that you do," said Stroble. "Our board is a diverse board. We are purposeful and intentional about it. Each of you is a part of that… You help us to enlarge it going forward. That's part of the power and the impact that Webster can have. And it's because of you."
Schuster thanked the board for their commitment to fostering inclusion and supporting mentorship. "We all learn from each other and we learn from our experience, and as long as we do that, society will prosper," he said. "And, of course, the key issue in all of that is to rely on each otherr. If we do not rely on each other, if we are [a] lone wolf… if we only rely on our own kind, we will fail. We will fail as individuals and we will fail as a society. And in this fight, that is not an option."
Webster Speaks: Upcoming Episodes and Replays
Each episode of Webster Speaks: Dialogues on RACE, EQUITY and INCLUSION is presented for viewers live via Zoom, then recorded for watching with enhanced content later. Register for upcoming episodes and catch discussions you may have missed or share them with others at webster.edu/WebsterSpeaks.
A recording of the Oct. 28 episode, "Activism through Art" with Cbabi Bayoc and Dail Chambers, will be available soon. The next episode, "My Journey Toward Becoming an Antiracist," will be presented live on Nov. 11. Register here.