Webster Speaks Series: View episode 1, join July 22 for next discussion on race, equity and inclusion
More than 140 Webster students, alumni and community members logged on WebEx July 8 to see the premiere episode of Webster Speaks: Dialogues on Race, Equity and Inclusion. The new virtual speaker series featured guest Donald M. Suggs, publisher and president of the St. Louis American, on the topic "What is the Meaning of Freedom Right Now?".
Suggs engaged in a wide-ranging discussion with Vincent C. Flewellen, Webster's chief diversity officer. Regional recruiting coordinator Earl McCoy, Jr. served as the moderator, fielding questions tweeted by the audience using the hashtag #WebsterSpeaks.
Suggs urged people of color to vote wisely, especially at the local level, and reply to cohesiveness and coalition-building. "The problems that account for our circumstances are very, very entrenched," said Suggs. "We need to develop a sense of solidarity because our strength lies in our numbers."
A civil rights activist since the 1960s, Suggs encouraged by the groundswell of support that has been building since the deaths of Trayvon Martin in 2013 and Michael Brown in 2014 and taken to a new level with the police killing of George Floyd in May. "I think the larger issue here and now is whether the moment will turn into a movement. Hopefully, it will," said Suggs.
Still, Suggs cautioned that overcoming a long legacy of institutionalized racism will not be a quick fix. "Everything cannot be done in one generation," said Suggs. "We shouldn't be discouraged. We should do the best we can while we're here, but we also have to be interested in what we provide for our children – give them an opportunity to take things further than we were able to take them."
Chancellor Elizabeth J. (Beth) Stroble gave closing remarks and thanked Suggs for his long affiliation with Webster. "I remember how consistently across all these years you have been such a source of advice, and history, and grounding, and encouragement for me and for Webster," said Stroble. "I come away tonight feeling like this was the ideal way to start Webster Speaks because this is an opportunity for Webster to listen."
Join the next live episode on July 22: "Lessons from Ferguson"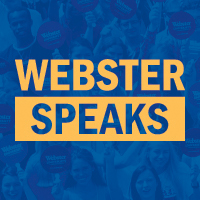 Webster Speaks is the latest effort by the University to challenge the many issues surrounding systemic racism and inequality.
The next live episode will be at 7 p.m. on Wednesday, July 22. Hear our special guest, the Hon. Ella Jones, the first Black and first female mayor of Ferguson, discuss her city as a symbol of both injustice and hope. Michael McMillan, president and CEO of the Urban League of Metropolitan St. Louis, will talk about local programs and progress in bridging St. Louis's racial divide.