Werfelmann Receives 2020 Artist Support Grant from Regional Arts Commission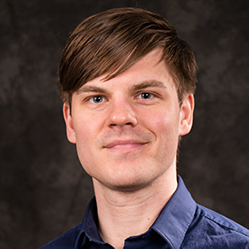 David Werfelmann, director of the BA in Music program in the Leigh Gerdine College of Fine Arts, is a recipient of a 2020 Artist Support Grant from the Regional Arts Commission (RAC).
The RAC Artist Support Grant supports the career advancement of individual artists. This grant provides direct funds for projects or creative opportunities in all artistic disciplines.
The Artist Support Grant can be used for equipment and materials, rental space, arts-related travel, conference fees, project completion, salaries, professional and artistic development, training and other resources.
Werfelmann's Proposal For Artist Support Grant
"Funds from this grant will support the creation of a new work for saxophone quartet and electronics. This work, tentatively titled 'Short Fuse,' will combine acoustic and electronic media into a coherent tapestry of sound. Short Fuse will explore the wide palette of colors available through a combination of the saxophone ensemble and computer-generated and processed sounds."
"A new work for saxophone quartet and electronics, as I envision it, will play a significant role in my development as a composer in a number of way. Working with Fuse, a Chicago-based saxophone quartet, will bring my music to larger midwestern audiences, and across the United States as they perform the piece at festivals, recitals, conferences, and educational events. I will use the recording of Short Fuse to apply to competitions, conferences, and other grant opportunities. These opportunities will further my career goals by recognizing my work and connecting me with other performance ensembles who will perform and commission new pieces."
"Working through such an involved compositional project such as this is a significant opportunity to develop as a composer. Though I have worked extensively with electro-acoustic media in the past, this will be the first project in which I apply to technology to an ensemble, and combine both live and off-line electronic processing. With the experience I gain from this project, I will look forward to new works for larger forces to explore the limits of interactive media in the concert hall."
Regional Arts Commission
The Regional Arts Commission of St. Louis (RAC) is at the forefront of efforts to transform St. Louis into a more vibrant, creative, and economically thriving community by elevating the vitality, value, and visibility of the arts and culture. It is the largest annual funder of nonprofit arts in the region; and since its inception in 1985, has awarded more than 7,000 grants totaling over $100 million to support individual artists, nonprofit arts and culture organizations, and other programs.