Reeg ARC Data: Keep connecting students to ARC, Academic Counseling
Academic Counseling is one-on-one support that provides the assistance students need when they need it. Conversations often focus on accessing University resources, goal setting, learning styles, motivation, note taking, self-advocacy, stress relief and management, study skills, test taking, time management, and more. Academic Counseling often connects students to the services and supports that are most applicable for each student. With regard to services offered through the Reeg Academic Resource Center, students are most often connected to ADA/assistive technology, tutoring, and/or writing support through Academic Counseling appointments.
In January 2021, the Reeg Academic Resource Center reviewed data for Fall 2020 compared to Fall 2019 in an effort to see how the COVID-19 pandemic and resulting changes to Webster University education and academic support modalities affected student use of the ARC services. The below chart provides this data comparison: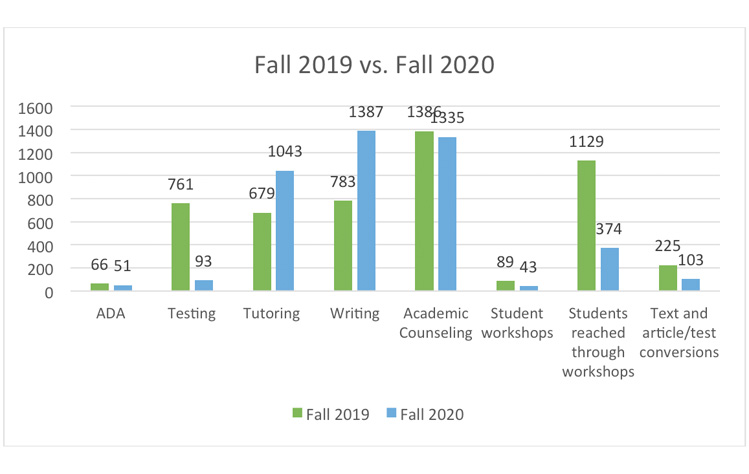 While there are expected decreases in service use in some areas, particularly in testing services, tutoring and writing service use increased by 154 and 177 percent, respectively, in Fall 2020 as compared to Fall 2019. Academic Counseling itself held fairly steady at 96 percent use. This data is significant considering that enrollment is down but students are still seeking assistance in high numbers.
The Reeg Academic Resource Center wants faculty members, individual students and classes to connect with our services. Faculty and staff members can connect students to services directly and/or by raising relevant flags and referrals through the Student Success Portal, powered by Starfish:
Academic Counseling Referral
Academic Integrity (flag)
ADA Concern (flag)
ADA Referral
Tutoring Referral
Writing Referral
Additionally, we encourage faculty to invite ARC team members into their classrooms for short presentations about the various services and how the services and resources can support their students. Services of particular interest are likely:
Academic Counseling resources
Academic Integrity and Writing resources
Tutoring resources
ARC team members can even teach mini lessons in classrooms when invited. These lessons typically focus on academic integrity, paraphrasing, proper APA and/or MLA documentation, and writing development or time management and study skills.
Presentations can be requested online at www.webster.edu/arc or by contacting ARC team members directly:
Erica Ellard, Reeg Academic Resource Center Director (and co-project lead for Starfish)
Carolyn Brown, Reeg Academic Resource Center Assistant Director
Kristin Cobos, Writing and Online Writing Center Coordinator
Lisa Hempen, Student Success Coordinator
Tasha Scola, Academic ADA Coordinator
Cherie Wyatt, Tutoring Program Coordinator
Cindy Yamnitz, Assistive Technology Program Coordinator
Scheduling an Academic Counseling Appointment
Students can schedule an academic counseling appointment with Lisa Hempen directly through the Student Success Portal, powered by Starfish, by clicking on this link.
Alternatively, students may schedule an academic counseling appointment by contacting Student Success Coordinator Lisa Hempen at 314-246-8284 or lhoffmanhempen67@webster.edu.
Spring 2021 Academic Success Workshops
The following academic success workshops are available to students throughout the worldwide Webster network in Spring 2021. Please encourage your students to register for and attend the workshops!
Student Success Strategies for Virtual Learning | Tuesday, Feb. 2, 3:30-4:15 p.m.
Are you currently attending a course remotely or online and would like to learn strategies for creating an efficient learning environment? Please join our panel of peer tutors to discuss best practices and strategies in completing an online or remote course as well as how to connect with the Academic Resource Center (ARC) for additional academic support.
Presenter: Cherie Wyatt and Peer Tutor Panel
Effective Communication with Your Professors | Thursday, Feb. 18, 3-3:45 p.m.
Being able to communicate effectively with your professors helps you succeed in your classes, supports clearer understanding of material, and allows you to seek assistance when needed. In this presentation, we will review the most effective ways to talk to your professors and establish a positive relationship with them.
It's the End of the Semester as We Know It! Preparing for Finals | Wednesday, April 21, 3:30-4:15 p.m.
This session will provide helpful tips to plan for success during final exams and setting yourself up for success.
About the Reeg Academic Resource Center
The Reeg Academic Resource Center (ARC) serves the global Webster system and is available by phone, email, and Zoom to all Webster students (and employees). It is located on the Webster Groves, Missouri, campus in Loretto Hall, room 40.