Webster Professor Guides Greek National Baseball Team to Top Tier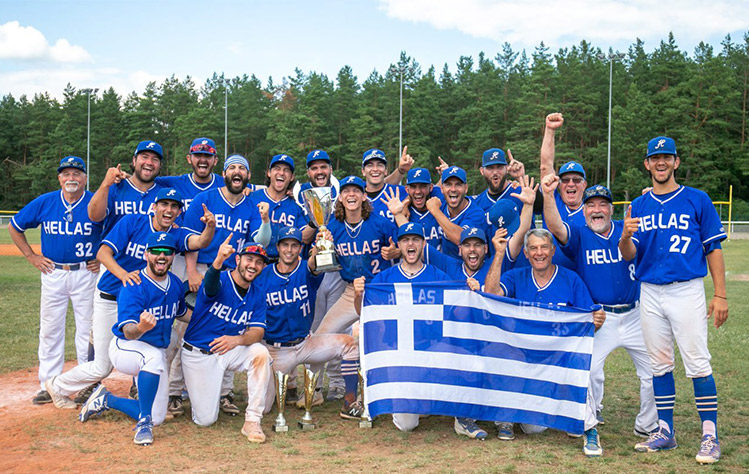 The Greek National Baseball team has returned to the highest level of European baseball after their success at the European Baseball Championship in Torino, Italy, Sept. 12-19, and they reached this milestone with a Webster University connection: The team's general manager, Stamos "Tom" Mazarakis, is an assistant professor at Webster's Athens campus.
"The Hellenic team successfully reach its primary goal of remaining in the group of the European national teams that compete at the highest level," Mazarakis said. "It was a tremendous milestone and honor for the Greek National Baseball Team."
This is the first time the Hellas (Greece) team has been in the A pool since the 2016 European Baseball Championship, the highest level of European Baseball competition, in Amsterdam, Netherlands. After 2016, Hellas has competed in four different qualification tournaments in Serbia, Ireland, Bulgaria, and Lithuania, where it finally fought back into Europe's top level.
Last summer, the Greek team defeated the host Lithuania 8-4 in the championship game to win the WBSC Utena Qualifier to punch their ticket back into Europe's top level of baseball, the European Championship A Pool.
Mazarakis is an assistant professor and director of Facilities & Operations at Webster Athens.
Mazarakis Receives AHEPA Hall of Fame Award
Mazarakis was recognized by the American Hellenic Educational Progressive Association (AHEPA) with the Athletic Hall of Fame award for his tireless efforts to keep the sport of baseball alive in Greece and bring Greek baseball again into the top-level European Championship.
He received the AHEPA's athletic distinction award at the organization's annual convention this summer in Athens, celebrating its 99th Anniversary and Greece's 200 years of Greek Independence with members from AHEPA chapters worldwide. AHEPA was established by eight Greek Americans in Atlanta, Georgia, on July 26, 1922. Since then, it has grown into an international Greek organization with chapters and members in a long list of different countries and a membership reaching over 100,000 worldwide.
Several Webster Athens faculty and staff are members of this international organization and were in attendance, including Vasilis J. Botopoulos, Webster Athens rector and managing Director; John Nomikos, head of History, Politics, International Relations, and Religious Studies; and Stanley Sfekas, professor in the History, Politics, International Relations, and Religious Studies Department.
Lifelong Passion for Baseball
AHEPA recognized Mazarakis for his lifelong passion for baseball and his athletic spirit. Everyone in the world of Greek baseball acknowledges that had he not volunteered his time and efforts with such enthusiasm and dedication, baseball would not have had any future in Greece. Ultimately, it is for this reason that he was honored with his induction into the AHEPA Athletic Hall of Fame.
"I am truly honored to have been inducted into the AHEPA Athletic Hall of Fame by my brothers who have recognized my efforts to keep the sport of baseball alive in our ancestral homeland," said Mazarakis. He is a long-standing member of the organization, director of AHEPA-Webster program "Journey to Greece" and General Manager of the "Hellas National Baseball Team" since 2005.
"Being in the same Hall of Fame with world-class athletes of Greek heritage from almost every sport is something I never even dreamt of being a possibility," he said. "I will be eternally grateful to my brothers who made this honor a reality."
Mazarakis has been instrumental in forming and assuring the team's participation in international tournaments. Although he never played college or professional baseball, the sport was always his absolute favorite.
"This was because baseball is a sport that does not require any particular physical attributes that other sports require," he said. "Even an average person can become a professional if he puts in the time and effort to perfect his craft." Moving to Greece at the age of 15, his dreams of making it to the majors were erased, and he learned to adapt to that reality since baseball did not exist in Greece.
He recruited players and handled almost all administrative functions with the gratitude of HABF.
Reviving Baseball after the 2004 Olympics
Baseball in Greece is regulated by the Hellenic Amateur Baseball Federation (HABF), which was founded in 1997. The national team's first major international tournament was the 2004 Athens Olympics.
When the 2004 Athens Olympics led to a determined effort by the Greek Ministry of Sports to field an Olympic baseball team, Mazarakis immediately volunteered to help the effort as a coach, player, field crew worker, umpire, scorekeeper, etc.
"After the 2004 Olympic Games, the sport was completely abandoned by the Greek Ministry of Sports, and absolutely no funding was provided for National Teams or local tournaments," he explained, unfolding the history of the Hellenic National Baseball team. "Without funding, the Hellenic Amateur Baseball Federation (HABF) could not organize local tournaments or National Team participation for any international tournaments."
As a result, starting from 2008, he almost single-handedly took it upon himself to organize fundraising efforts. He recruited players and handled almost all administrative functions on behalf of and with the gratitude of the HABF leadership.
Since then, the team has participated in numerous European Championships and Cups, and at the 2019 European B-Pool Championship, the Greek team won 3rd place. The team's players are of Greek descent from across the world and from the existing development league in Greece. They include players from U.S. and Canadian colleges and universities and Independent professional leagues across North America.
"For nearly 100 years, we have promoted the ancient Hellenic ideals of education, philanthropy, civic responsibility, family and individual excellence through community service and volunteerism, making positive change around the world," asserts AHEPA. Among the AHEPA's Educational Foundation priorities are the programs "Webster – AHEPA Journey to Greece," "Odyssey in Athens" and the MBA offered through Webster's Walker School, along with Public Health, Public Policy, Housing, Athletics, and Veteran Affairs.