Students Attend Athens Theatre Performance 'Medea and Other Friends I Made in Athens'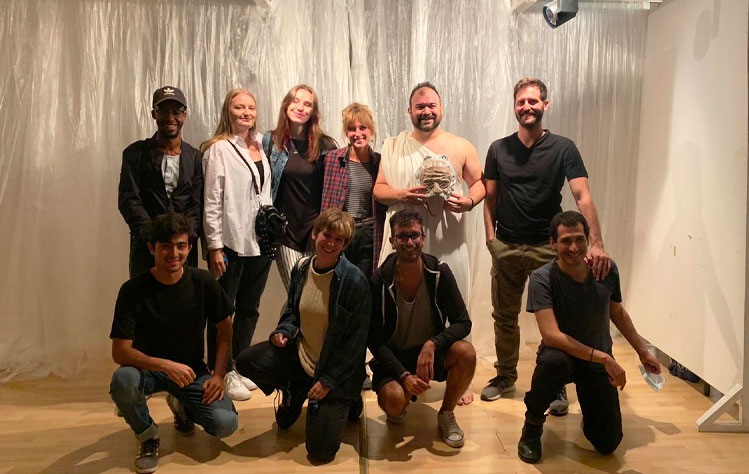 On Sept. 24, study abroad students at Webster University Athens, along with some of the local students, had to unique opportunity to attend the theatrical performance "Medea and Other Friends I Made in Athens" by the theatre group Koilon.
Performed in English, this a comedy about an English tourist who came to Athens, fell and hit his head, and when he awoke he was in ancient Greece surrounded by various characters in antiquity. The performance compiles excerpts from the following major works of Ancient Greek literature: "Odyssey" by Homer, "Women in Power" by Aristophanes, "Medea" by Euripides, "Prometheus Bound" by Aeschylus, "Antigone" by Sophocles, and "Wealth" by Aristophanes.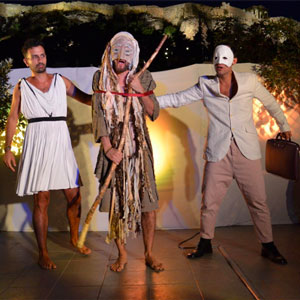 The performance took place on the rooftop terrace of Webster Athens Cultural Center with the iconic Acropolis lit up in the background. This is an ideal location for theatre, as the building is nestled right behind the Roman Agora and the Acropolis above. Koilon Productions is a Greek theatre company based in Athens. Plays are written and performed in every-day, modern English, giving tourists and visitors a chance to witness ancient Greek theatre with a modern humoristic twist.
According to Koilon, "Our aim is to promote Greek theatre and culture in an innovative way, making it accessible to audiences of all ages. The style in which our plays are written and performed adds a modern touch to these ancient classics, enabling our viewers to immediately connect with the characters and enjoy a taste of six of the most important works of Ancient Greek Drama." It is sponsored by the Greek National Tourist Organization and XPAT Athens and is in the third consecutive year of production.
The students had a wonderful time and after the performance had a chance to mingle with the actors back stage. To find out more information on the Koilon Theatre group visit: koilon.gr.