Webster University Chess Team Wins January 2021 Pan-Am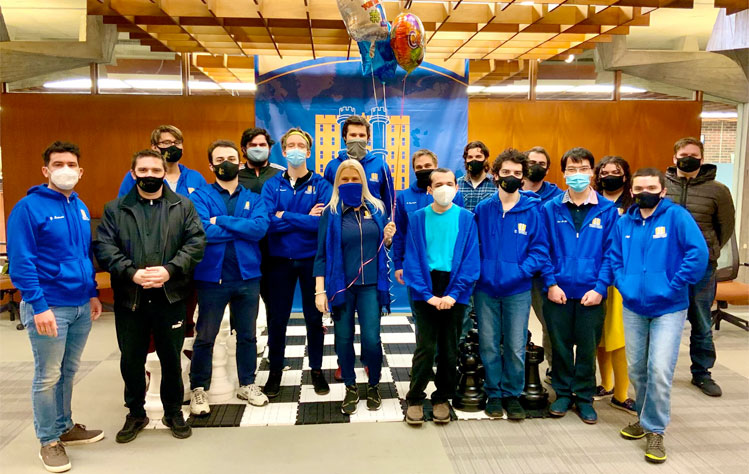 Webster University's chess team took first place in the recent annual 2021 Pan-American Intercollegiate Chess Championships. The Pan-Am Tournament, held annually as the foremost intercollegiate chess championship in the Americas, featured 59 teams competing online. The top four teams from that tournament will move on to compete in the "Presidential Cup" tournament later this year, which determines what college team holds the national championship title.
The Webster University chess team, coached by Susan Polgar of the Susan Polgar Institute for Chess Excellence (SPICE), attracts high-level chess players who value the importance of attaining a college degree. Not only did Webster's "A" team finish first, but Webster's "B" team tied for third place at the Pan-Am.
"Our Webster chess team has demonstrated great success year after year, and we are so proud of their first-place win in this year's online competition," said Chancellor Elizabeth (Beth) J. Stroble. "Team members excel in chess as well as in the classroom, where they work to attain a Webster degree that prepares them to compete on the world stage."
First-place (A) team members are: grandmaster (GM) Lazaro Bruzon from Cuba, GM Benjamin Gledura from Hungary, GM Aram Hakobyan from Armenia, and GM Alex Lenderman from Brooklyn, New York.
The third-place (B) team members are: GM Peter Prohaszka from Hungary, GM Yuniesky Quesada from Cuba, GM Emilio Cordova from Peru, and GM John Burke, the reigning U.S. Junior Champion (21 and under), from New Jersey.
"Chess is an integral part of Webster's philosophy to provide a high-quality education to everyone willing to pursue her/his dreams," said President Julian Schuster.
The Webster University chess team has been ranked #1 in Division I College Chess since its inception in August 2012. It has never relinquished the top ranking. To learn more about Webster's chess program, click here.